Department of Engineering
Electronics and Computer Engineering
My Studies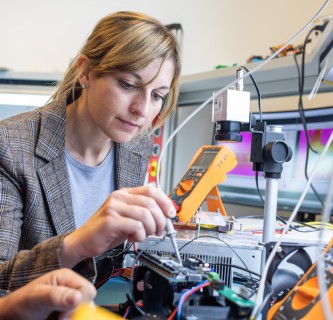 Key subject areas
Electronic Systems
During the course, you will gain deeper insight into the functioning of embedded systems. You will also learn how to combine hardware and software in a user-friendly manner. You will gain expertise in using the latest methods of hardware development such as advanced packaging – an ultra-compact mounting technology. To give you the best possible start to your career, you will use recognised electronics CAD tools such as Altium Designer. We will also provide you with the expertise you require in the field of combined processor/FPGA platforms.
Specialisations
Our course offers particular subject areas which are oriented to the needs of industry. You will acquire specialist knowledge in various fields such as power electronics, for instance, with its various applications in electrical energy conversion. This covers efficient solar inverters, high-dynamic power amplifiers for testing systems as well as charging units for electric and hybrid vehicles.
Additional Topics
The course also covers many other up-to-date issues, such as:
Drivetrain electrification including battery and fuel cells
Driver assistance systems
Sensor technology and digital communication and control systems
This wide range of topics will make it easier for you to enter the world of work after completing your Master's course.
What specialisations are available?
The focus areas of the Electronics and Computer Engineering programme enable you to build and develop your knowledge in your fields of interests. Your job and career options will increase as an expert in a specialist field.
Power Electronics
The focus in this area is on green mobility and renewable energies. The core of your training will be based on the design and development of efficient power electronic components and their application in resource-saving systems.
Automotive Control
Here the focus is on embedded software and its application in automotive electronics such as driver assistance systems and drive controls. This expertise is in particular high demand at regional companies.
"I have chosen the Master's degree programme in Electronics and Computer Engineering because I am fascinated by digital technologies. I enjoy solving challenging problems in the fields of electronics and informatics and finding solutions for the future. This course opens up a wide range of excellent career opportunities."
Study mode, self-study and attendance
Study mode
The Electronics and Computer Engineering course is organised in a work-friendly format. In the first to third semesters, classes are generally held from 13:00 on Wednesdays to 20:00 on Fridays. This allows our students to undertake work on Mondays and Tuesdays in a firm or in the Institute's own research centre. The pattern in the fourth semester tends to be three blocks of classes, plus the key task towards the end of the course, which is the writing of the Master's thesis.
Self-study
The self-study option always depends on the personal ambitions of our students. It generally involves around two hours a day across the whole week.
Attendance
There is a basic attendance requirement for the Electronics and Computer Engineering course. Students can be excused if they produce a doctor's certificate. Our students are permitted to miss a maximum of three units per semester without providing a reason. Failure to comply with the attendance requirement will result in a negative assessment and you will be disqualified from sitting the first examination.
Final judgement on the implications of absence and on exceptions to the attendance requirement will be made by the head of degree programme.
Read next:
Curriculum
To make your education as wide-ranging and practice-oriented as possible, the course content is divided into modules of different subject areas. Here you can find an overview of all modules and the associated courses.