There are many routes to a degree in IT at FH JOANNEUM. Many students with school leaving certificates from non-technical academic secondary schools (AHS) have also successfully taken on the challenges of mathematics, programming and network technologies. One student reports on her experiences.
Barbara Kienzl is 22 years old. She attended an academic secondary school in Graz where, at the age of 13, she chose Italian as her preferred subject, effectively relegating maths, physics and IT to the back seat. Today she is studying for an IT degree at FH JOANNEUM. This includes lectures on software development, network technologies and database systems. Maths and IT have become part of her daily routine, while her Italian is slowly being forgotten.
"Before I started this IT programme I was concerned whether I could pass the maths and programming exams. Now I'm in my fourth semester and know that I didn't need to worry. We began with the basics of programming. It certainly took me a little longer to get to grips with the subject, but eventually the penny drops – often with help from lecturers or fellow students," says Barbara Kienzl.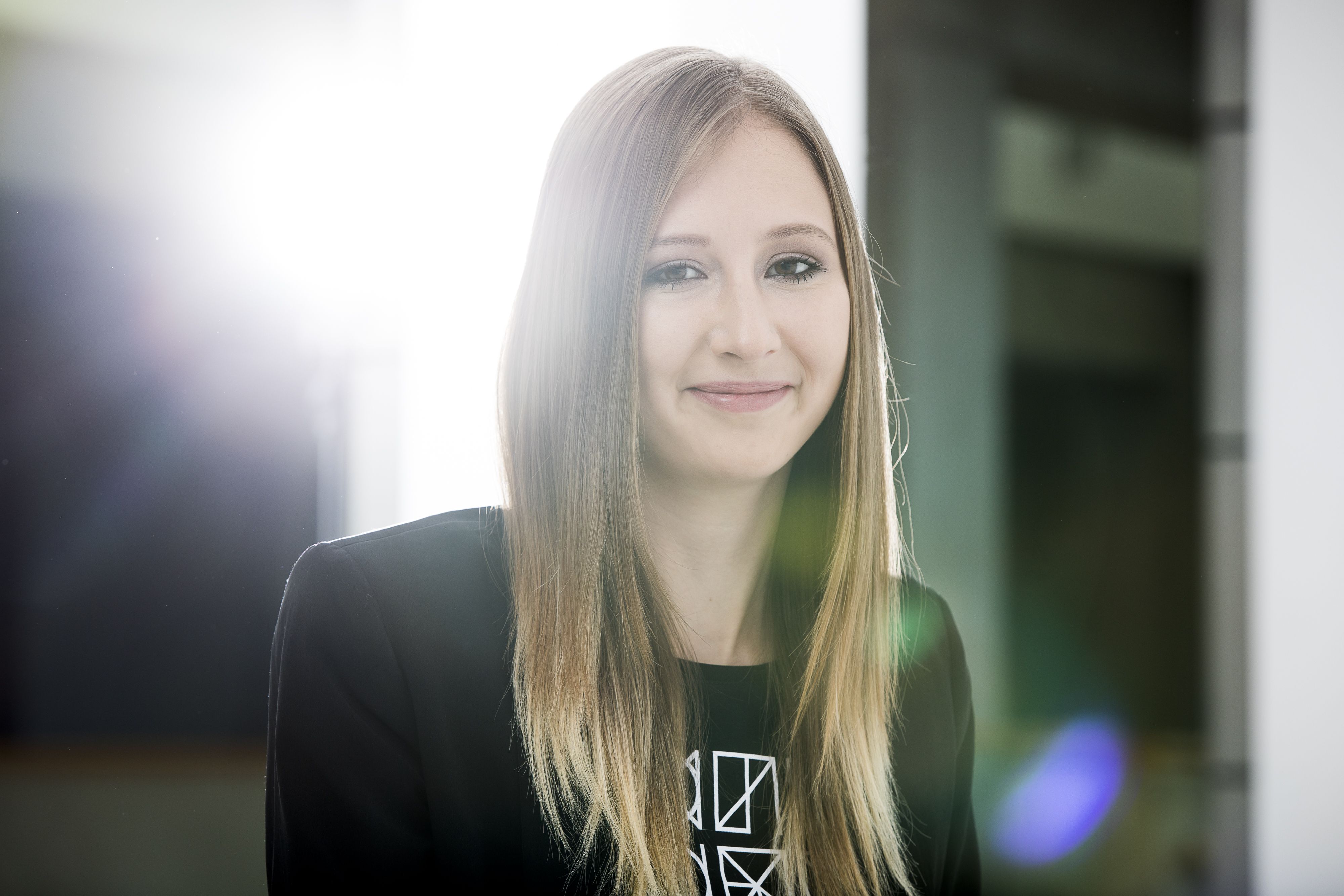 Barbara Kienzl is one of many students who chose to study for an IT degree after leaving an academic secondary school (AHS). (© FH JOANNEUM / Marija Kanizaj)
192 of the 490 students currently on the Bachelor's programme at the Department of Applied Computer Sciences have attended an academic secondary school, or AHS for short. That is just about 40%. By comparison, the proportion of students coming from a technical secondary school, or HTL, is 27%. So even if they didn't study primarily technical subjects at school, students who come to the programme from an AHS successfully complete their degrees, and on graduation know everything they need for their chosen careers, whether network and data management in Internet Technology, software development in Software Design, programming apps in Mobile Software Development, applying communication technologies in Information Management, or, like Barbara Kienzl, healthcare in eHealth.
IT revision course and mathematics warm-up
Making starting easy(-ier): FH JOANNEUM offers preparatory courses for all students on technical and engineering programmes. One example is the mathematics warm-up which, for two weeks before the start of the course, revises the mathematics syllabus for the school leaving examination. This is ideal for any prospective student who does not feel entirely confident in the subject matter, or whose school leaving exams were taken some time ago.
During the first semesters additional help is also provided for the compulsory classes, including an IT revision course and the mutual assistance offered by the students themselves. "We quickly grew into a tight-knit group, with everyone helping and supporting each other," Barbara Kienzl reports of her experiences. In this way students without previous technical knowledge benefit not only from the lectures, but also from the know-how of fellow students with more IT experience.
Barbara Kienzl could also have chosen another route. After leaving school she studied law in Graz. After graduating it is possible to enrol directly on the Master's degree in IT Law & Management. This is also an option for graduates of business administration; more information is available here. So there are very different pathways to an IT programme at FH JOANNEUM, and each is equally valid.