International degree seeking students can apply for merit-based scholarships provided by FH JOANNEUM in a scheme we have offered since 2015. Besides other criteria, Students need to have excellent academic records in order to be eligible for the scholarship. In the application round 2017, one student immediately caught our attention with an average grade of 1.00. We would like to introduce this student as representative of all our scholarship holders.
Andishe Zhand grew up in Tehran, Iran. She comes from an internationally orientated academic family. At the age of 12, Andishe Zhand already decided that one day she would come to Austria. It is not unusual for young Iranians to study abroad. Andishe Zhand has relatives in France and in the USA and in other countries too. She decided for herself, however, that she would like to try something completely new. Austria was familiar to her from accounts her father gave about his business trips and somehow it was clear to her that one day, she would also go there.
In Iran, all people who want to enrol at university need to pass a common entrance exam for all institutes of higher education. A ranking is created for all students based on the outcome of this examination. The higher you score, the better your chances to get the study place you have dreamed of. Andishe Zhand was ranked 9th best among more than 40,000 students.
As reward for her outstanding results, her parents offered her a trip abroad to a country of her choice. Since Andishe Zhand had already begun to learn German at a language institute of the Austrian Embassy in Tehran, she chose Austria and the chance to further improve her German at a three-week summer school in Vienna. By the time she came to Vienna, Andishe Zhand had already started her Industrial Design studies back home in Tehran. She was so impressed by her journey to Vienna that she told her parents she would return to Austria at the earliest opportunity. Not long after this she came to Vienna for an exchange semester at the Technical University of Vienna. For Andishe Zhand, it was clear that this was the country where she wanted to stay and study, so she used the semester abroad to apply for a study place at the Bachelor's programme of Industrial Design. In the following term, Andishe Zhand began her studies at FH JOANNEUM.
Andishe Zhand has now almost completed her Interaction Design Master's degree. She is working part-time in the area of game designing and is about to start her Master's thesis in the area of virtual reality. She is looking forward to the many exciting developments that will follow graduation. We are sure that lots of fascinating projects will open up for her and we wish her every success.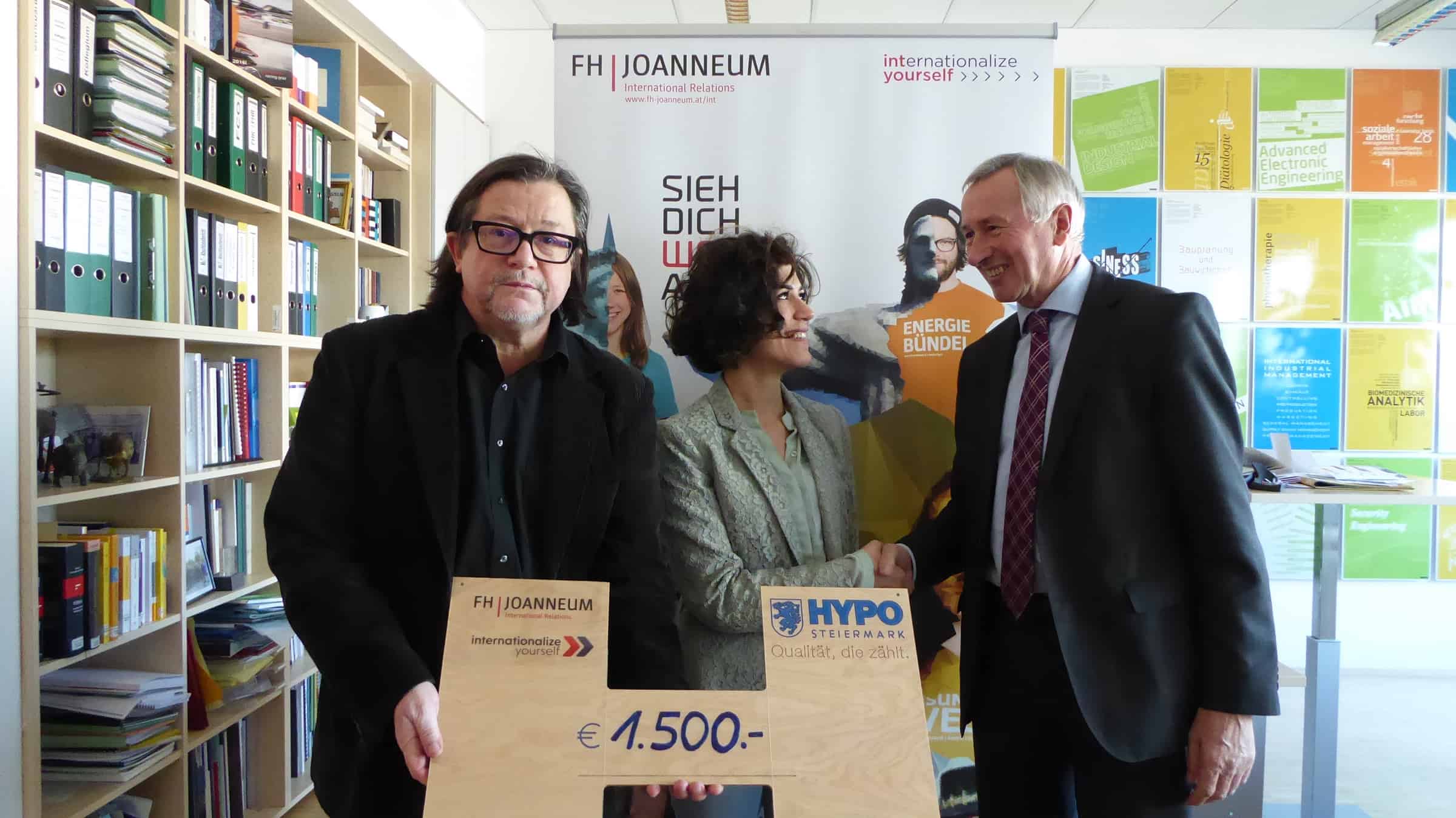 Head of Degree Programme Karl Stocker, scholarship holder Andishe Zhand and Managing Director Karl P. Pfeiffer
Tip:
For further information on merit-based scholarships for international degree-seeking students, please contact international@fh-joanneum.at