An exciting and unique city. New approaches to the topic of 'design'. A passion for detail and sustainable thinking. All of this awaits exchange students and lecturers at the College for Creative Studies in Detroit, one of the best three design schools in the USA. Karl Stocker, head of the Information Design and Exhibition Design programmes at FH JOANNEUM, discusses the potential for new cooperation in a short interview.
Rector Karl Peter Pfeiffer, Managing Director Günter Riegler and Karl Stocker, head of the Information Design and Exhibition Design programmes were very impressed on their first visit to Detroit and ranked the College for Creative Studies (CCS) as a must on our list of partner universities.
What started out as a wish in 2013 has now become a reality: Karl Stocker took advantage of his last trip to Detroit) and signed an agreement with the renowned design school in the mid-West of the USA.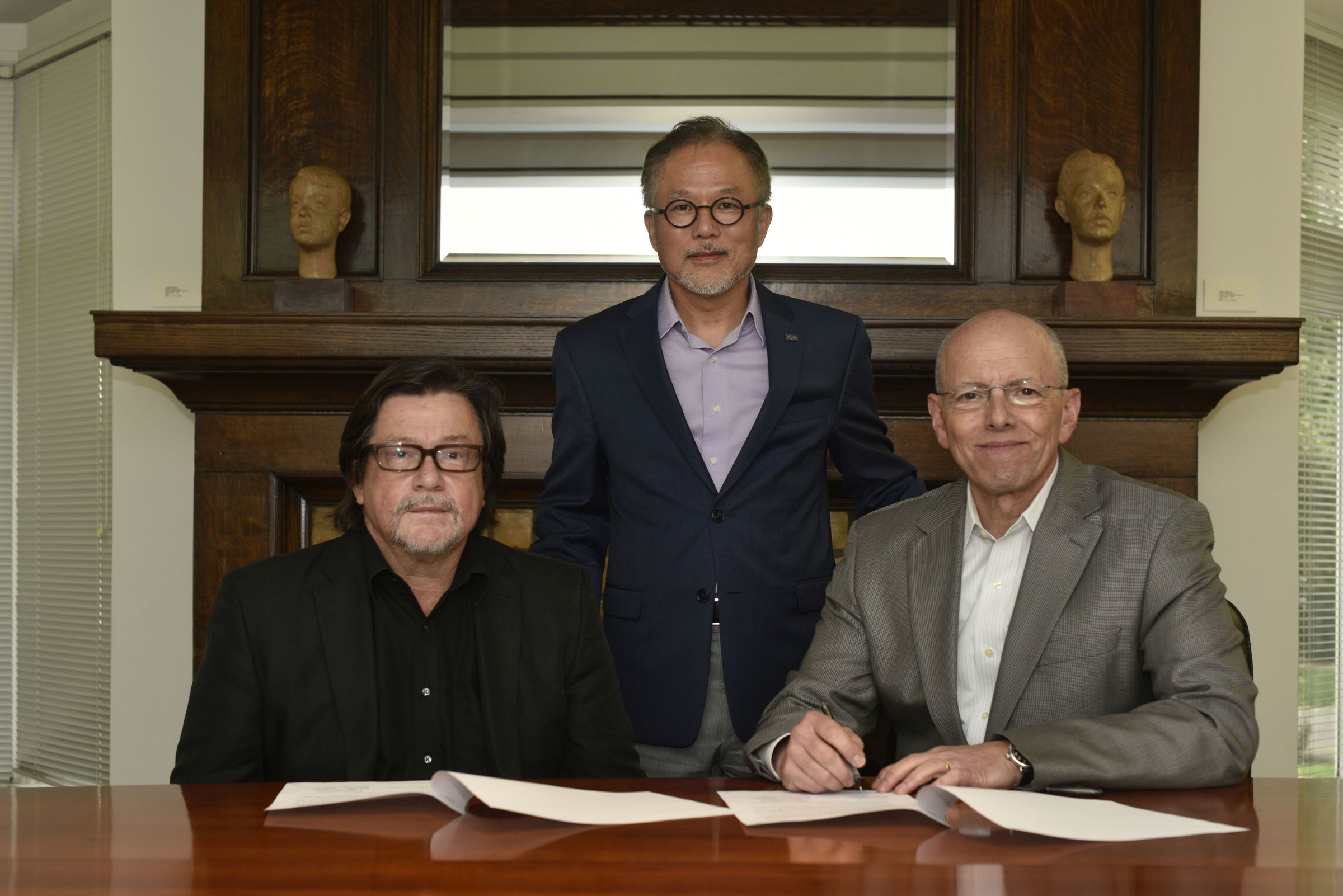 Karl Stocker (left) with Sooshin Choi, Provost and Vice President of CCS (centre), and Richard L. Rogers, President of CCS (right) signing the agreement.
What advantages does this new agreement bring for FH JOANNEUM?
Karl Stocker: "Every year, two of our students can study at CCS and two students from CCS can come to us. We are also planning to carry out some projects with our new partner in Detroit. Lecturers from our two institutions also have the opportunity to take part in an exchange".
What connects FH JOANNEUM with the College for Creative Studies?
Stocker: "We have a similar focus and both draw on the social aspect of design. For us, design is not just about product design, contract projects and agency work. It can also be a way of improving the world a bit – for the general masses, not just the top earners".
Why Detroit?
Stocker: "The city is unbelievable. It is harsher and rougher than Graz. A city which undoubtedly also fuels personal development. A city where the population has shrunk so significantly in such a short time that there is a lot of empty space. And empty space means lots of room for new design ideas. The city is reinventing itself".
What can we offer the exchange students from Detroit?
Stocker: "An exciting and interesting course in a UNESCO City of Design".