In September 2019, Ruslana and Antonija started the master's program in Business in Emerging Markets at FH JOANNEUM. The first semester has almost passed, and the girls are ready to pass on their knowledge and experience to new applicants for the academic year 2020/2021.
Antonija is a graduate of the Polytechnic University of Medimurje in Croatia, where she specialized in economics and tourism, while Ruslana studied business and English in Wroclaw, Poland. Originally from the Ukraine, Ruslana got to gain international experience during her bachelor's degree and decided to continue studying abroad for her master studies. It was clear to both of them that they wanted to specialize in business for their master's, and the program Business in Emerging Markets seemed like a perfect fit.
The decision to study at FH JOANNEUM.
It was not only an interesting field of studies that brought Antonija and Ruslana to apply to FH JOANNEUM. They did research on several business universities on beforehand and were impressed by the courses and research opportunities at FH JOANNEUM as well as by the university's facilities and reputation. After having completed a big part of the first semester, they both agree that despite their high expectations, they were not disappointed. Helpful and flexible teachers, nice study areas and a diverse and friendly group of students are some of the aspects they are especially pleased with.
The application process.
After deciding that Business in Emerging program was the right one for them, Antonija and Ruslana started preparing their application. They had to submit a CV and a motivational letter, as well as their bachelor's degree diploma, the diploma of their high school leaving exam and an English language certificate. In order to attend a master's program in English, they had to prove at least level B2 of written and spoken English. Ruslana explains she had several questions regarding the admission procedure. Some of her questions could be answered by consulting the FH JOANNEUM website, while others required advice from the experts. Luckily, she says, the admission team was available via email and happy to answer her questions.
The admission test: first steps at FH JOANNEUM.
As soon as the application was submitted and approved by the admission team, it was time to start preparing for the admission test and interview. They both found the admission test quite difficult and would therefore advise future students to spend some time on the test preparations. Ruslana says she found useful information on the admission test on the FH JOANNEUM homepage which helped her to see what she needed to prepare for. After completing the written admission test, the girls completed an interview with the program of studies to determine whether they were suitable candidates for the program. Luckily, they both passed and were offered a spot at the master's program of their choice.
The start of the master's programme in "Business in Emerging Markets".
Fast forward to December 2019 – Ruslana and Antonija have completed three months of studies and explain that no day at FH JOANNEUM is the same. As the master's program Business in Emerging Markets is a job-friendly program, they have one day per week with no classes. The rest of the days are quite full with seminars and lectures, with the occasional hour off which they can use to study in the library. After a long day of classes, it's important to relax and socialize – that's something Antonija and Ruslana agree on. They often meet up with their classmates for a coffee or a drink after lectures.
Student life in Styria.
The girls have settled in well in Graz and are happy that they chose to study in Styria. They've been busy since the start of the semester, but have still found time to travel around a bit. Hallstatt and Vienna were highlights for both of them, and Antonija was impressed by the Zotter Chocolate Factory. They're both eager to discover more of Austria and the surrounding countries.
Tips and tricks for future applicants.
When asked to provide tips and tricks for future international applicants, Antonija and Ruslana are not hesitant and quickly list their three most important success factors:
Keep track of dates and deadlines
Make sure to get all paperwork done in time
Learn German – at least basic level
Ruslana explains she did not speak any German upon arrival. She was delighted to discover that she could attend the orientation program for international students, which included an intensive German language course, as well as several social events. The orientation program was a win-win situation – she made her first friends at FH JOANNEUM and learned quite a bit of German too.
After finishing the interview, Ruslana and Antonija quickly gather their things and get ready to move on with their day – after all, life as a master's student is busy, and the two agree that they have to use their time wisely. We are happy that they could spare some time for this interview and wish them all the best for the rest of their studies!
An Interview by Ingerid Nordahl Dommersnes.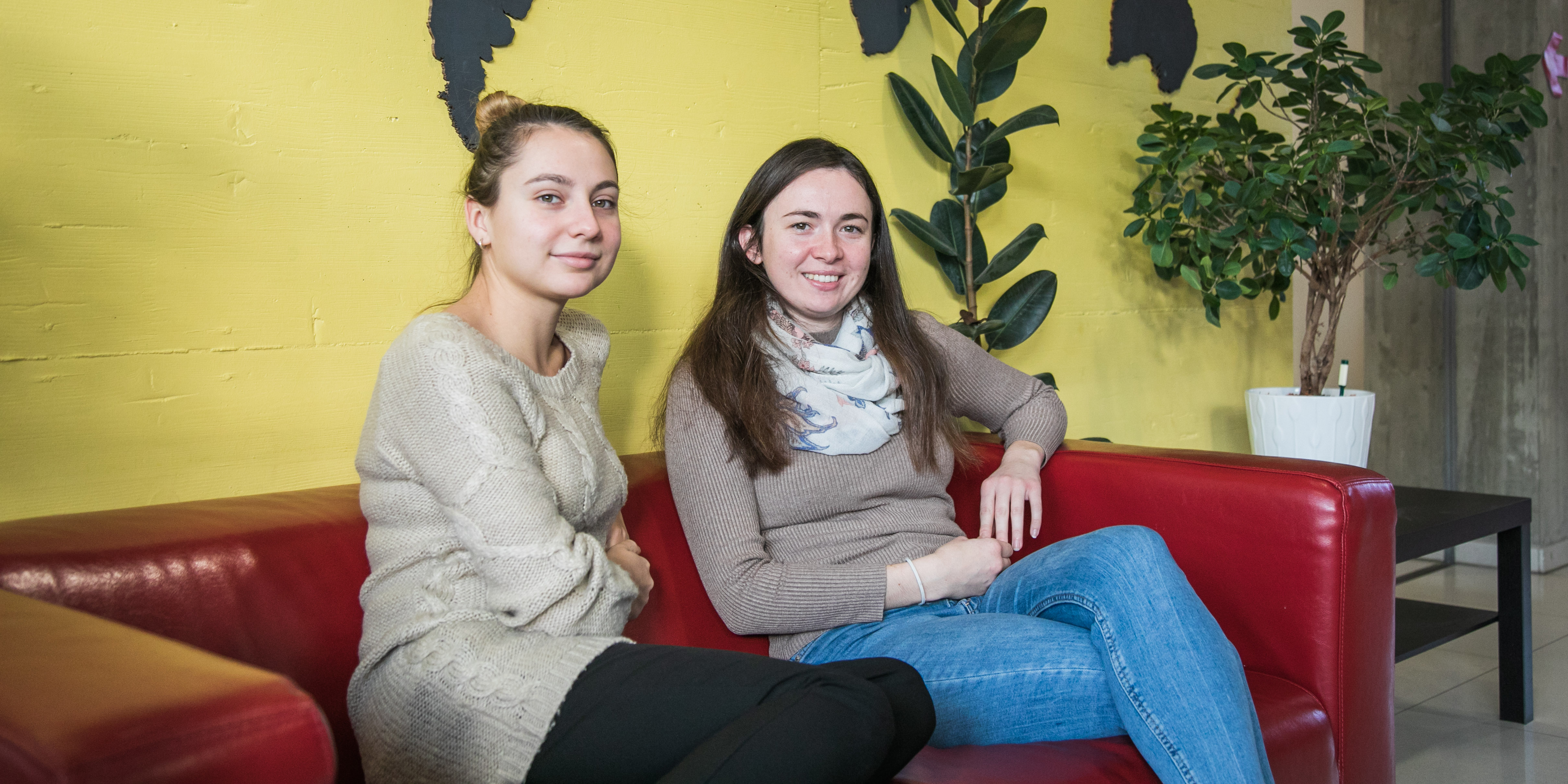 © FH JOANNEUM / Miriam Weiß
Tip:
Please consider the application deadline for International degree seeking Non-EU/EEA students for Master programmes that are entirely taught in English: 22 January 2020.
Students from Russia, Bosnia and Herzegovina, Serbia, Ukraine, Albania, Turkey, India can hand in the proof of having attained a relevant bachelor's degree programme until June 30th 2020.
All other documents need to be handed in within 22 January 2020.