As temperatures start to fall and the first leaves turn orange and brown, we know that autumn is here! And autumn means the start of studying! The beginning of a new year, a new semester and a new stage in life. But this year, everything is a little different. To ensure that our students stay well informed and prepared, you can find the most important information and tips about starting your course here.
Note:
Based on the decisions taken by the federal government, FH JOANNEUM is switching its study traffic light system to ORANGE. This means FH JOANNEUM will transition to distance learning and the proportion of online teaching will increase to up to 100%. In-person classes will be restricted to practical sessions that are absolutely necessary and adhere to strict safety and hygiene standards. More information here.
As our annual 'Students' Welcome' party cannot take place this year, our Managing Directors Karl Peter Pfeiffer and Martin Payer along with Uwe Trattnig, Head of the FH JOANNEUM Board and Verena Hohenwarter, Chair of öh joanneum, will be addressing all students with a short welcome message.
Our central contact points
The Study Center in the foyer at Alte Poststrasse 149 is the central contact point for our students. Here student ID cards can be issued and renewed or charged with cash for the copier and printer. Students can also use their student card to access the building and obtain discounts at certain restaurants and events etc.
The stamp for the public transport pass and the Top-Ticket for students can be requested from the relevant programme office or collected from the Study Center – including by beginners who do not yet have confirmation of registration. The associated form can be downloaded and printed out from the website of Holding Graz.
The Study Lounge at the Study Center also offers students the chance to learn together in a pleasant and quiet ambience – of course with the required minimum social distancing and mask wearing. There is also a public access PC linked to each copier and printer, where you can log in with your personal login details.
Regarding the login details – at the start of their studies, all students are allocated an email address and the required login details. But what if you forget your password? We can help with that! The Central IT Services and Helpdesk teams assist students with all technical issues. The Helpdesk is available from Monday to Saturday by emailing helpdesk@fh-joanneum.at or calling +43 316 5453-8888.
The key links for FH JOANNEUM are compiled at desktop.fh-joanneum.at. And download.fh-joanneum.at contains instructions for using Microsoft Teams, printers, password management, WiFi and many other topics.
What tools are available to students?
Our goal is to make studying at FH JOANNEUM as pleasant as possible for our students. The Studo app helps you stay up-to-date. Here students can find all the classes, grades, news and emails at a glance. The Pro version can also be used free-of-charge.
At the same time, we provide our students with access to all Microsoft Office programs: you can use Word, Excel, PowerPoint, Outlook, OneNote and other applications in the web app and install them on up to five private end devices. Additional details and the downloads can be found at portal.office.com.
Since around 70% of teaching will take place virtually, it is essential to install Microsoft Teams. Students can chat, hold audio and video conferences and share content with colleagues. This collaboration platform is available for each year group and each course. Download links: iOS and Android.
At FH JOANNEUM, students have access to WiFi services, including eduroam as well as FHJOANNEUM2WORK and FH JOANNEUM4FREE. You can log into the first two using your FH account details to gain internet access. FHJOANNEUM2WORK gives you additional access to FH JOANNEUM drives.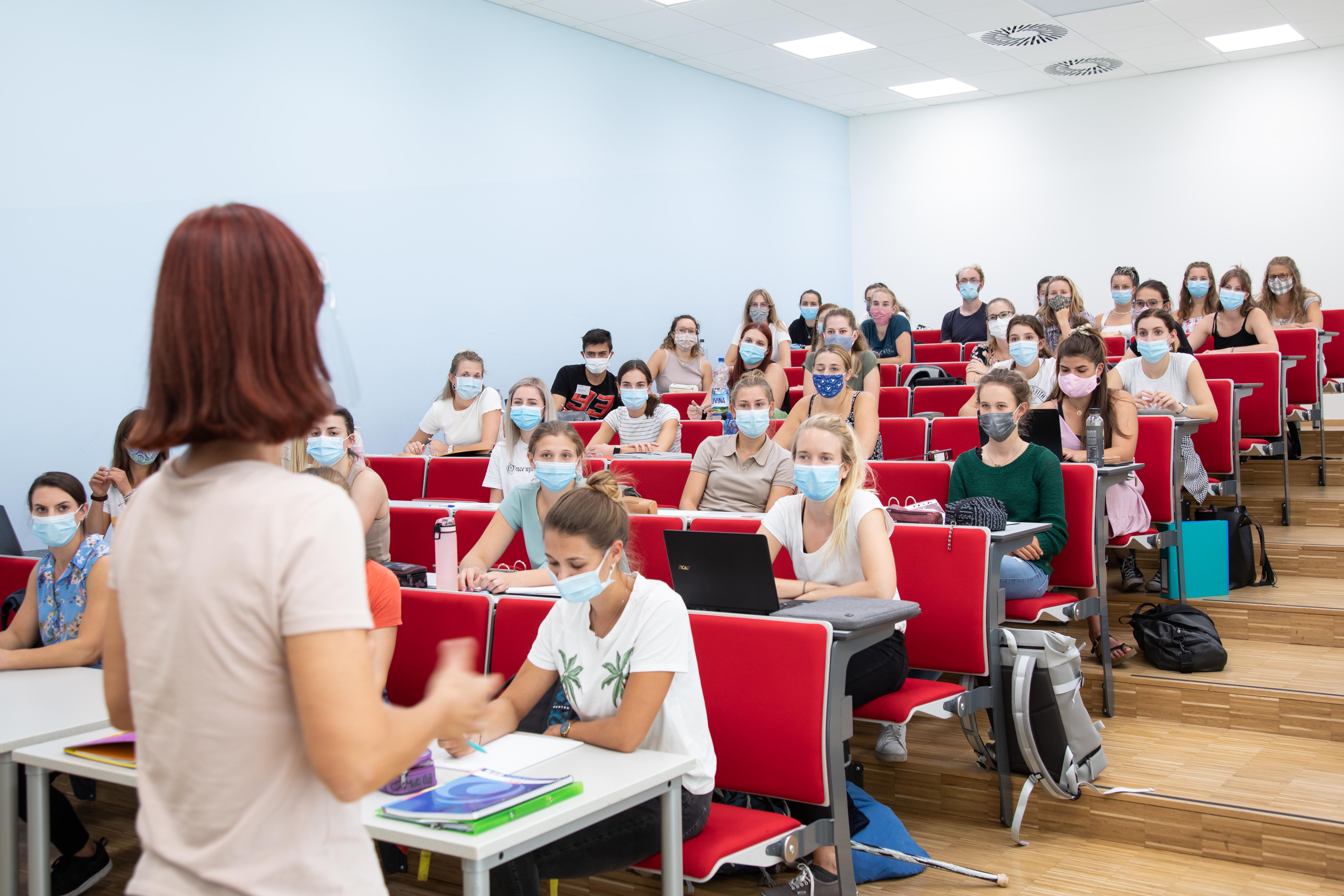 This year, everything is a little different but we want to ensure that our students stay well informed.
Networking and studying together
Studying is not just about learning and training; it is also about networking and making new friends. Many degree programmes offer a buddy system through which students from the later semesters can provide tips to the freshers.
The Institute of Information Management additionally runs a mentoring programme designed to promote networking. Experienced students from the third semester of the Bachelor's course support the first-semester students. The programme aims to help freshers adjust to studying and student life and will continue during the 2020/2021 academic year, albeit in a modified form due to COVID-19.
The International Relations team is on hand to provide support to students from Austria and abroad as well as offering language courses and helping with the internationalisation process. It is also possible to spend a semester abroad, despite COVID-19.
Over 110 students will spend the upcoming winter semester abroad as a student or intern. At the same time, there are some 80 incoming students from the EU/EEA and third countries such as Pakistan, Jordan and Iran who are coming to Austria to study at FH JOANNEUM. The Tandem Programme helps to promote integration and provides the opportunity to exchange languages, experiences and culture among students.
Vital support is also provided by the öh joanneum Student Union. It assists students with legal issues related to studying and represents their interests.
Tip:
We would like to wish all students a successful start to their studies!