Continuing Education
knowledgefactoryIWI
Lecturers and employees of the Institute of Industrial Management at FH JOANNEUM are passing on their know-how about corporate and personal development in the form of short seminars and workshops.In doing so, the knowledgefactoryIWI is facilitating the transfer of knowledge from university to the workplace.
Tip:
All seminars, courses and workshops can be run either on FH JOANNEUM premises or as internal company events. Please contact us for more information.
Current courses, seminars and workshops
Intellectual property rights for buyers (patent, trademark, design and copyright law)
Univ.-Prof. Dr. Gunter Nitsche
When buyers procure products whose commercial use represents an infringement of third-party intellectual property rights, then the owners of those rights have a claim for injunctive relief and remuneration, even when those using the product do so in good faith. That makes it all the more important for the buyer to know how contracts can be drafted to transfer the risks. In addition to the legal principles, you will learn the formulations to use in the general terms and conditions in order to include suppliers in the risk of possible rights violations.
31 March 2017 (09:00-17:00) and 01 April 2017 (09:00-13:00)
Industry 4.0 – Information technology merges with production
DI (FH) Ernst Peßl
The seminar reflects on the current hype surrounding Industry 4.0. It examines topics including the Internet of Things, cyber-physical systems (CPS), and Smart Factories. The seminar also covers Manufacturing Execution Systems (MES) as information hubs in modern production (Smart Factory) in the context of Industry 4.0.
03 May 2017 (09:00-13:00)
BPMN 2.0: Database-driven process modelling – the end of the document jungle
DI Johannes Dirnberger, BSc, and Sascha Stradner, BSc It has become the fashion to adopt BPMN 2.0 as the standard for modelling business processes in order to support the decision-making process in business process optimisation. Furthermore, database-driven modelling tools are increasingly being used to visualise process applications in the context of professional process management. On this course you will be introduced to the world of BPMN 2.0 and taught the fundamentals of database-driven process modelling using case studies which you work on independently in a relaxed seminar atmosphere.
10 May 2017 (09:00-13:00)
Innovate to succeed – Innovative solutions for your business
DI (FH) Magdalena Gabriel "Innovation is 1% inspiration, 99% perspiration". Success begins with an idea. However, turning this idea into operational reality is generally a long drawn-out process. This seminar is designed to support you through the process in a structured way, and shows you how to apply concepts, methods and tools of innovation management in order to design products and service ideas and put them into practice. In doing so, it offers both a current overview of prevailing theories in the field of innovation management as well as their practical application in business.
16 May 2017 (09:00-13:00)
Simplify Excel with VBA – from scary programming to software helper
Ing. Herbert Kohlbacher, MSc After the learning barrier has been overcome, VBA can quickly and reliably take over repetitive tasks in MS Excel, even preventing sources of error such as transposed digits or incorrect positioning. Copy & paste is replaced with just a little tinkering. The participants will gain experience in using MS Excel macros, learn tips and tricks for creating small programmes, and practice using the current version of MS Excel.
23 May 2017 (09:00-17:00)
Industrial engineering in the context of Industry 4.0
DI Wolfram Irsa, CIRM, CFPIM
The renaissance of industrial engineering (IE) continues to this day. This positive development has been strongly encouraged by the introduction of production systems which reflect a holistic approach to people, technology and organisations. Discussions focus on the role humans will play in cyber-physical production systems, and how Industry 4.0 changes our working environment. During the seminar participants will develop solutions for real-life examples of Smart Factories using simulation-based value stream mapping to demonstrate the symbiosis between IE and Industry 4.0.
22 June 2017 (09:00-13:00)
Hands-on service engineering: From your idea to a design concept for new services
DI Dr. Herbert Michael Richter
Encouraged by current business examples of Industry 4.0 and service engineering, you will develop some initial ideas for new services, either independently or in the group. You will then take the selected ideas and work them into a design concept. True to the motto of 'learning by doing', you'll use tried and tested as well as new methods, giving you practical insight into the subject of service engineering.
10 July 2017 (09:00-13:00)
Please note: The course takes place in Graz.
Supply chain simulation
DI (FH) Uwe Brunner
Decision-making made easy. This business game places you in a competitive situation, requiring you to assert yourself against your rivals. The business game covers the fields of logistics, procurement, sales and production planning, as well as their impact on business success, and especially overall business management parameters.
18 July 2017 (09:00-17:00)
IoT – from sensors into business systems
Ing. Herbert Kohlbacher, MSc, and DI Günter Hoffellner
You want to use business and process-critical information about production, warehousing, vehicle fleets or similar areas in business systems such as ERP, MES, or email clients? On this seminar you will develop a prototype in which, step by step, sensors are selected and read-out for proper processing. You will see how real world information can be integrated into business applications.
08 September 2017 (09:00-13:00
Supplier management in the digital age of Industry 4.0
Dr. Gottfried Obmann, MSc, MBA
This seminar considers methods and tools for successfully managing supplier relationships so that a company is fit to face the challenges of standardised networking across the supply chain. It also provides the opportunity to discuss future trends in supplier management, and to work out possible solutions for further increasing the contribution of purchasing and procurement to the success of the business as a whole.
14 September 2017 (09:00-13:00)
Improve your technical English
Mag. Dominic Welsh
Struggling to describe your own products and industrial processes? If the answer is yes, this is the ideal seminar for you! The course will cover basic and advanced technical vocabulary, primarily in the disciplines of mechanical engineering, petroleum engineering and materials science. Furthermore, participants will learn how to effectively use dictionary and translation tools to help build their technical vocabulary. In addition to applied grammar input and active practice in the form of exercises and discussion, participants will role-play problem solving cases with examples tailored to their fields of industrial activity.
27 September 2017 (09:00-17:00)
Staff development in the digital age
MMag. Dr. Sabrina Romina Sorko
Digitalisation presents companies and their staff with new challenges. In this workshop you will discover how you can motivate your employees, even in a time of change, and how to prepare them to face the new demands brought by Industry 4.0. With an integrated approach to HR management, the topics range from individual staff development to innovative training and the demands on management.
10 October 2017 (09:00-13:00)
Model-based predictive control
DI (FH) Barbara Mayer
Are you torn between different and apparently contradictory objectives when it comes to optimising your production? Has your process become so complex that a multiplicity of process parameters are influencing your objective, making it almost impossible to intuitively detect the interactions? This is where model-based predictive control comes into its own as an optimisation and control tool. In addition to constructing a model of your process, it can also incorporate specified technical limitations and future disruptions.
23 November 2017 (09:00-13:00)
Procurement controlling
FH-Prof. Mag. Dr. Martin Tschandl and DI Dr. Peter Schentler In this seminar the participants learn current scientific and practical approaches in planning, managing and controlling successful procurement. Starting with the question of the impact that procurement activities have on corporate results, a variety of instruments are presented for optimising and increasing the effectiveness and efficiency of procurement.
04 December 2017 (13:00-17:00)
Please note: The course will take place in Graz.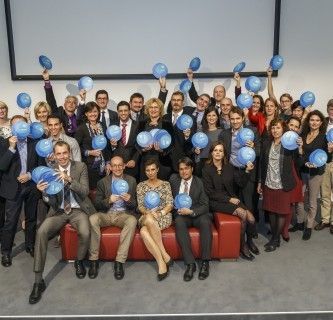 Certification
Industry 4.0 – Innovation Specialist
Course dates are arranged on an individual basis. We are happy to send you more information.
Industrial Engineering im Kontext mit Industrie 4.0
DI Wolfram Irsa, CIRM, CFPIM
Industry 4.0 – Information technology merges with production **
DI (FH) Ernst Peßl
**IoT – from sensors into business systems **
Ing. Herbert Kohlbacher, MSc | DI Günter Hoffellner
**Supplier management in the digital age of Industry 4.0 **
Dr. Gottfried Obmann, MSc, MBA
**Staff development in the digital age
MMag. Dr. Sabrina Romina Sorko
ERP/SAP® @ knowledgefactory IWI
Mag. Dr. Christian Bischof, MBA
The following Enterprise Resource Planning certification tracks are offered primarily for students:
ERP university certification: conceptual, business management and technical know-how about ERP systems
Preparation for SAP® Foundation certification for...: SAP Business Suite (ECC 6.0) | SAP Business ByDesign
Preparation for SAP® TERP10 certification: the product-specific preparatory course is run in cooperation with the SAP® University Alliances Programme. Preparatory courses are offered for the various levels of SAP certification within this cooperative programme. ®SAP is a registered trademark of SAP AG.
Requirements and contact
Course fees:
One day: € 350
Half day: € 240
One and a half day: € 490
25% discount for IMC, VNL & WING members
knowledgefactory advanced
10% discount for bookings on three different workshops or three workshop participations.
Certificates:
Supply Chain 4.0 - Innovation Specialist: € 890,-
ERP / SAP®: dates and prices on request
Cancellation
Cancellation is free up to seven working days prior to the workshop. 50% is charged for later cancellations, and 100% for failure to attend without prior notification.