International Staff Week 2018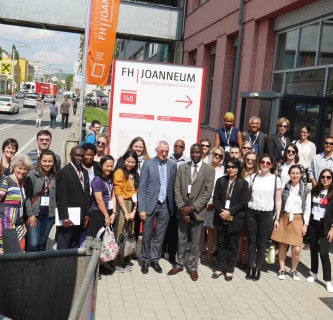 Every other year FH JOANNEUM organizes an International Week for Incoming Staff from partner universities of FH JOANNEUM. The next staff week will take place in spring 2020.
Incoming Staff Week 2018
26 colleagues of 23 partner universities from 19 different European and non-European countries participated in the 5th International Staff Week which took place in April 2018. The participants not only visited the campus in Graz but also in Kapfenberg and in Bad Gleichenberg. They received information on various degree programs and got hands on information. During the week the participants were able to visit various central services and/or degree programs for a short job shadowing unit. They presented their home universities at the International Fair and met with their own outgoing students and/or former incomings. Last but not least a cultural program was put together with a city tour through Graz, an excursion to the Gsellmann Worldmachine, Wollgenuss and the Zotter Chocolate Manufacturer.
Impressions of the Staff Week 2018
"I learned about an incredible university but at the same time this week allow us to share our culture- it remind me why I like so much my job."
"Thank you for arranging us such an impressive moment and everyone involved in this project is super awesome."
"I had a wonderful time at the staff training week at FH Joanneum and met some truly amazing people. I learnt so much about other participants' cultures and customs, as well as receiving useful input to help me develop in my job role and to expand our university's internationalization strategy. Thank you so much for being so hospitable and I can't wait to send my students to your world-class campuses!"
"An effective organisation and a human approach made the stay very nice and useful!"
"We had a great experience of being with "the world " I took the opportunity to meet friends and "draft" new cooperation MoU's."
"Inspiration, exchange and a very friendly atmosphere was the staff week 2018 at Joanneum for me! A big thank you to all of you!"