Memo
Coronavirus: Important Information | 10 Simple Rules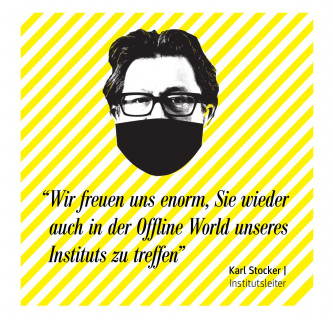 We look forward to welcoming our new and returning students. At idk_FH JOANNEUM, we're working hard behind the scenes to make sure your learning environment is as safe and welcoming as possible. You can expect a mix of on-campus (face-to-face) and online learning (as well as safe access to facilities). It's important that we all play our part to stop the spread of the virus and to keep each other safe. You can do this by sticking to a few simple rules.
keep 1m distance to others
wear a face covering
wash your hands frequently and use hand sanitizer
disinfect your workspace and equipment with the provided disinfectant
do not use an elevator (unless necessary)
register with your student card everytime when you enter a building (confirmation signal from card reader)
stay at home, if you feel sick or if you have symptoms of coronavirus
call 1450 in case of cornavirus symptoms and please contact us at info_covid19@fh-joanneum.at to let us know and to help us with tracking your contacts
enter the university buildings only when you have a class (course) or a pre-arranged meeting and leave the building just after
stay to the right in the staircases and do not group in foyers
check your email for important information and updates
While studying may feel a little different this fall, we at idk_FH JOANNEUM are committed to provide you the tools and resources needed to make sure all of you will have a great experience and fun.