Memo
Covid-19 update: Welcome back to FH JOANNEUM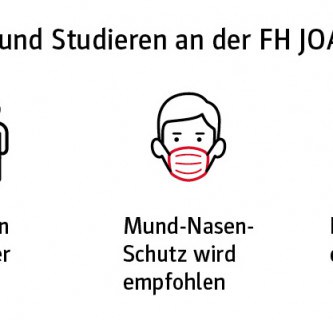 Summer has begun and thanks to the exceptional dedication of all FH JOANNEUM staff over the last few months, students have been able to complete the semester without any significant setbacks and most projects have been successfully continued.
For work to continue at FH JOANNEUM from 10 July 2020 as a combination of working on-site at FH JOANNEUM and remote working, it is essential to remain vigilant and to adhere to the currently valid safety and social distancing regulations.
Teaching and examination activities
Given the current Covid-19 situation, providing a 100% forecast and plans for teaching in the winter semester 2020/2021 is difficult. The following scenarios are conceivable for autumn from the current perspective:
The Covid-19 pandemic is over and we can return to the 'old' normal.
The Covid-19 situation continues to present problems but in a lesser form.
The Covid-19 situation affects us in the form of a second wave.
To ensure a certain level of planning security at an early stage, the winter semester 2020/2021 will be planned on a 'digital first' basis. Both classroom-style and online teaching sessions are planned (blended learning model), with online sessions accounting for between 30 and 50% of teaching in the winter semester.
The current guidelines for examinations continue to apply, including Bachelor's examinations, Master's examinations and board examinations.
This page will keep you updated on the latest information for FH JOANNEUM students.
Further information
Here (document in German) all employees of FH JOANNEUM (VPN connection with user name and password required) will find detailed information on planning recommendations for classes and regulations for remote working valid from 10 July 2020, business travel, events and room bookings.
Here you can find detailed information on temporary arrangements for the library due to Covid-19.
Here you will find all travel information from the Federal Government.
Here you will find all the Frequently Asked Questions about Covid-19.