Memo
Global Entrepreneurship Monitor (GEM) 2019
International comparative study confirms persistently high level of entrepreneurial activity in Austria
On Monday, January 21, 2019, the latest data on the Global Entrepreneurship Monitor – the world's largest comparative study of entrepreneurial activity with more than 200,000 interviews a year – was presented in Santiago de Chile. The 20th anniversary of the Global Entrepreneurship Monitor (GEM) was conducted by more than 50 countries. A look back at 20 years shows how entrepreneurship in five countries (the United States, Brazil, Germany, Iran and China) has evolved over time.
FH JOANNEUM Graz and its Institute for International Management have been carrying out the survey for Austria since 2005. 2018 brings positive and dynamic developments for Austria: the rate of young entrepreneurs is at a new high, the overall entrepreneurial activity has shown a dynamic development since 2012 and compares favourably to international standards.
GEM is a constant and pillar for science, politics and business. Since the first participation, the general conditions in Austria have developed very positively. In 2018, 10.9% of the working-age population is already young entrepreneurs. With this highest level since the first participation, Austria has already advanced to third place in an European comparison.
GEM Austria 2018 is a joint initiative of FH JOANNEUM, Federal Ministry for Digitization and Business Location, Federal Ministry of Transport, Innovation and Technology, Austrian Federal Economic Chamber, Vienna Economic Chamber, Austria Wirtschaftsservice, Council for Research and Technology Development, Austrian Research Promotion Agency mbH and JOANNEUM RESEARCH.
The detailed Austria Report will be published in the spring of 2019. Numerous other detailed aspects and in-depth indicators of entrepreneurial activity were collected by 4,500 Austrians and 39 experts. Special topics are research, technology and innovation of Austrian companies as well as family businesses.
The new GEM Austria report will be presented in May / June 2019 in Vienna.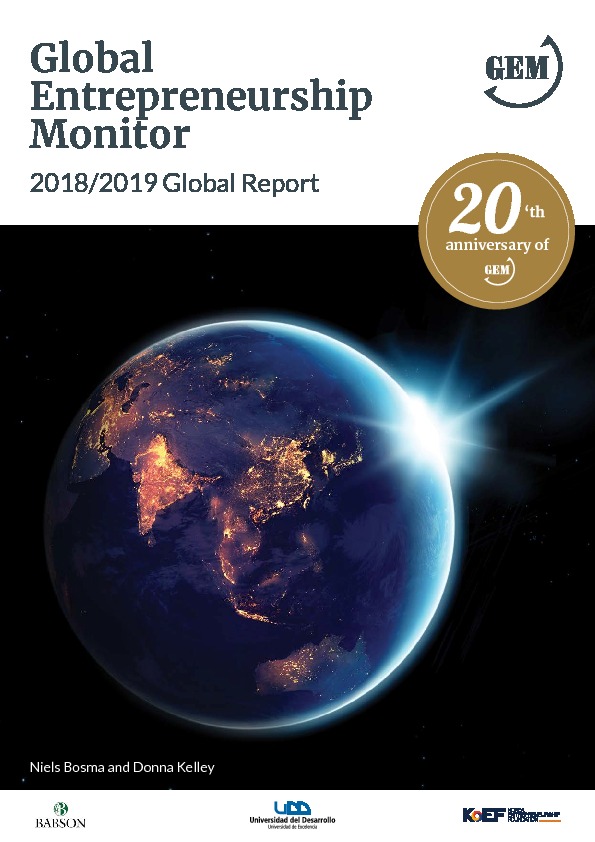 GEM 2018/2019 Global Report
Project team