Haubentaucher's Culture Podcast
What our lecturers also do
Books, politics and music. Coming from Graz and the rest of the world. – This is how Wolfgang Kühnelt, also known as "Der Haubentaucher", describes his blog. Since mid-November 2020, regular podcast episodes with guests from the Austrian but especially Styrian art scene have been published.
A certain amount of self-irony and Graz-sarcasm make the chats between Kühnelt, senior lecturer at the Institute of Journalism and Public Relations at FH JOANNEUM, and his guests what they are. Topics of all imaginable kinds are discussed, accompanied (or sometimes disrupted?) by the capricious calls of the "Haubentaucher", a special bird species, and quirky music. In his podcast, the Haubentaucher wants to give a voice to as many different genres and generations as possible.
The podcast is produced by SoSTEGOSCH Kreativagentur Graz and presented by Kühnelt himself, who has been pursuing the idea of making a podcast for a very long time. "I've been struggling with it for years, but never knew how, what, with whom and about what. At the same time, it was becoming more and more of a topic in the cultural field and also here at FH JOANNEUM. When I met Alex and Robert from SoSTEGISCH, it was clear: We're going to make a podcast!" says Wolfgang Kühnelt. No sooner said than done - on November 12, the prelude to the Haubentaucher Podcast was released.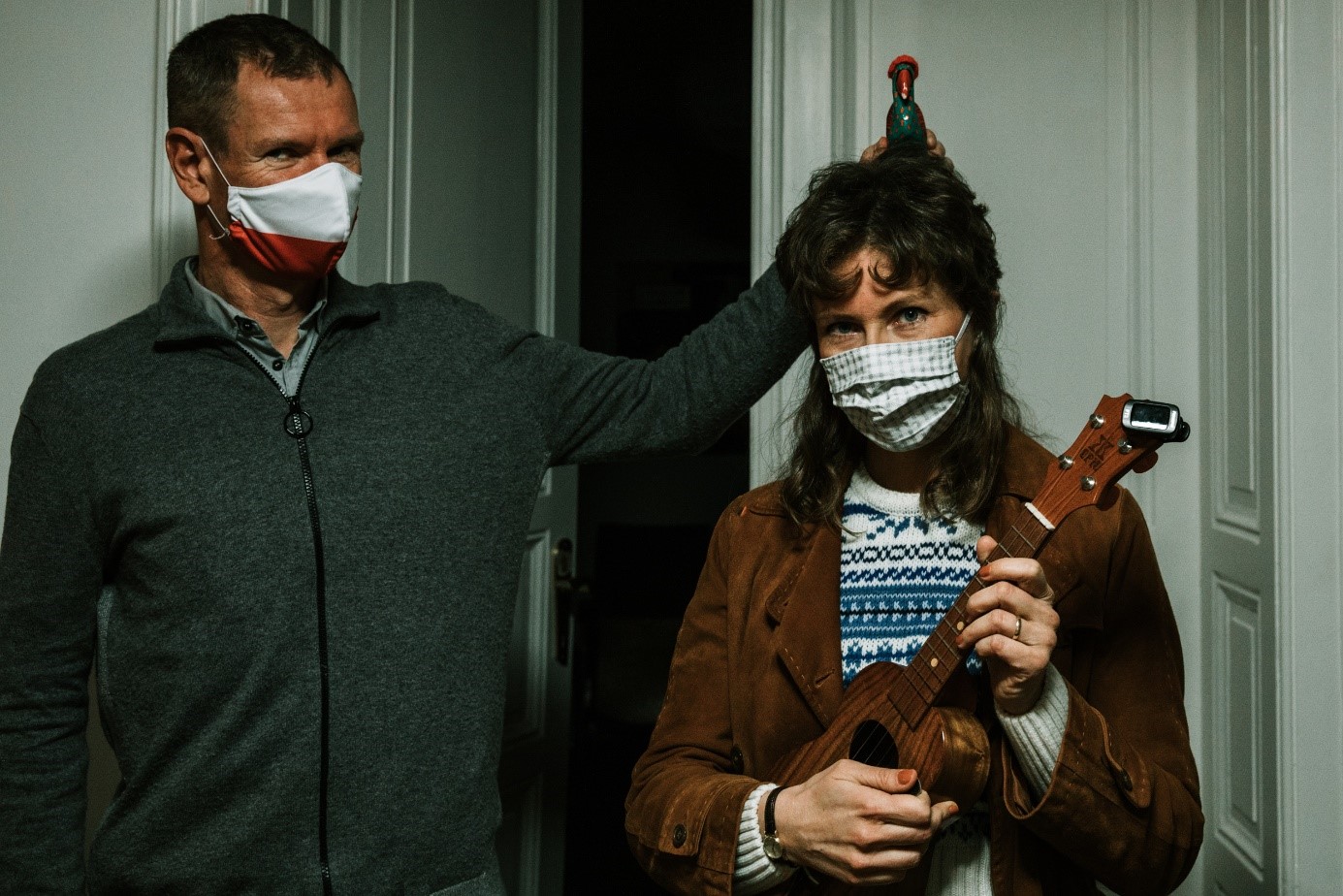 Wolfgang Kühnelt with his guest Lisa Cristelli
Lasting about half an hour each, the episodes are not overly long. Yet, it takes a clearly more time and work than the loose chitchat in the podcast suggests: Kühnelt admits that sometimes several weeks can elapse between the request to the guests and the scheduling until the actual recording. The production also includes extensive preparation and research, the inclusive debriefing of the interview itself, and then of course editing and post-production - which all together takes the team around Haubentaucher at least a day.
Up to now Kühnelt has already had four creative minds on his podcast. Author Nava Ebrahimi talks about life as a writer and her experiences with/concerning the Austrian-Iranian culture mix. Wolfgang Temmel, artist through and through, presents his ingeniously bizarre projects, opera singer Lisa Cristelli performs/sings Christmas songs musically accompanied by the ukulele and Bernhard Rinner takes us behind the scenes of the "Bühnen Graz".
Nava Ebrahimi with the "Haubentaucher"
For the upcoming year, there are already big plans for the podcast: The next three episodes, which will presumably be released monthly, Wolfgang Kühnelt is going to welcome guests from theatre, fine art and music. You can look forward to interesting conversations, no doubt!