Auszeichnung
Local Heroes – Our MA Students take home an award in this year's EYA
European Youth Award
Our MA students, Business in Emerging Markets, won the Local Student Program Award for their pitch for an innovative online platform beating 14 other teams in this year's EYA (European Youth Award).
In their team, five first-semester students of Business in Emerging Markets (MA) convincingly presented their business ideas for the smart learning platform Pixis https://pixis.co, one of the winning projects of the European Youth Award 2018, to an international jury.
The team's presentation together with a poster for Pixis, presented during the EYA Festival from 28 November to 01 December 2018 in Graz, proved to be the winning combination for the international jury who awarded our students with the prize for the best local team.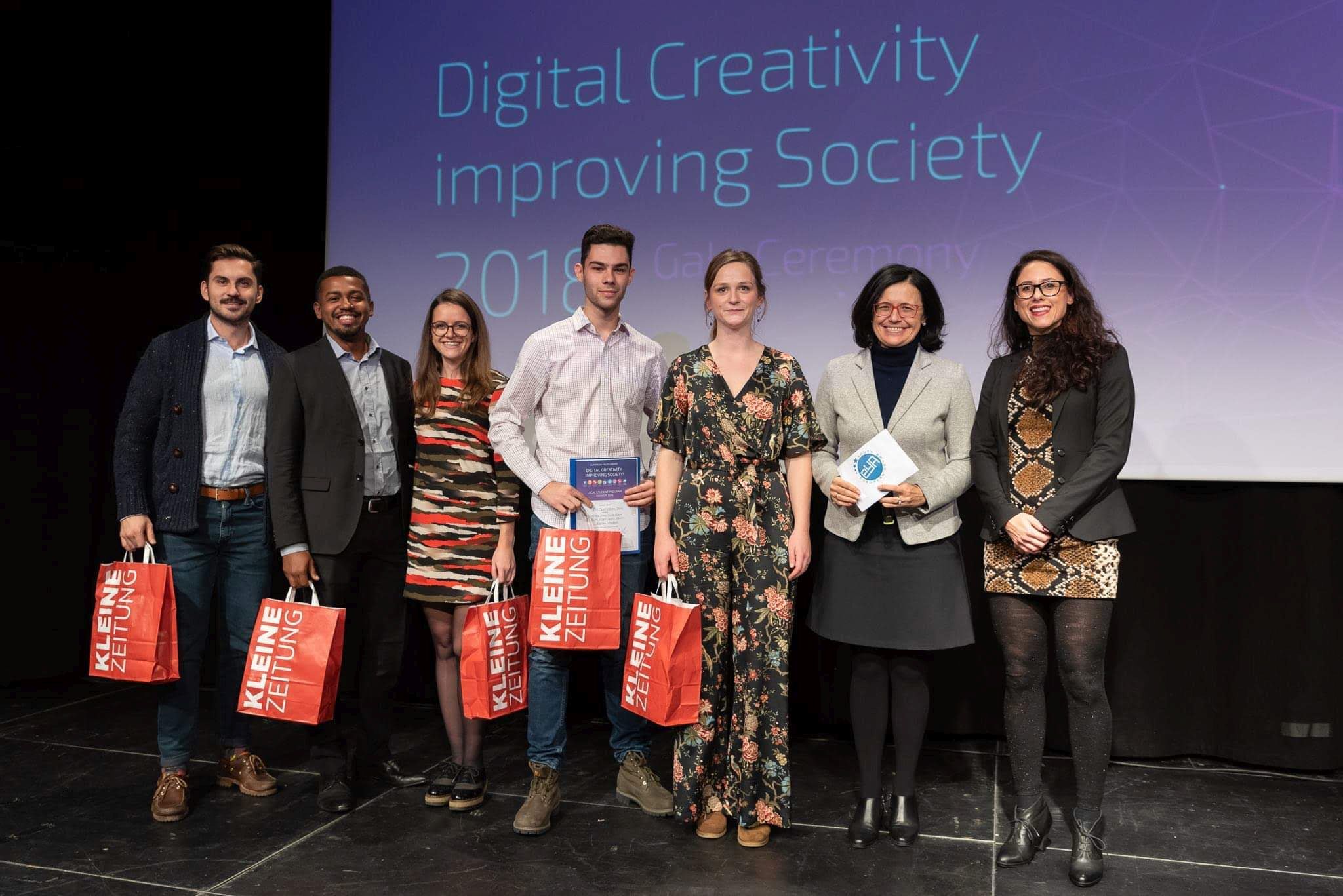 Award Ceremony EYA2018
Our local heroes Marlene Alkier, Carina Köppel, Katrin Wrulich, Renison Crawford, and Moritz Jellenz developed a concept to help the social entrepreneurs of Pixis with the challenges ahead.
Our task was to support one project out of the many winning projects from this years' EYA. We chose Pixis because we could relate to the problems it aims to solve and found the aspects of machine learning and AI very interesting as well.
The Local Student Program has become a central part of EYA, challenging students to analyse the winning projects, to develop concepts for the projects, and to present their results within one day only.
It was an inspiring experience for us due to the great knowledge exchange and the possibility to pitch in front of an expert jury - and being voted the winning team in that scenario means a lot to us. It shows us that we are on the right track and our ideas matter and that we furthermore got equipped with useful tools and techniques during our studies so far.
Encouraged by lecturers, the first-semester students of Business in Emerging Markets (MA) take part in the Local Student program of EYA every year. This year the lectures 'Business Development and International Marketing' led by Senior Lecturer Christian Friedl and Lecturer Ligia Pasqualin and 'Business Lab' led by Lecturer Lisa Mahajan supported all the student teams in the challenge.
Every year, our first-semester MA students are putting their best efforts into the very demanding challenge to develop business improvements within the short time span of 24 hours. I am very proud that this year their pitches convinced not only the international jury but also the entrepreneur who praised their great ideas and initiatives.