#STAYSAFE: How to protect ourselves and others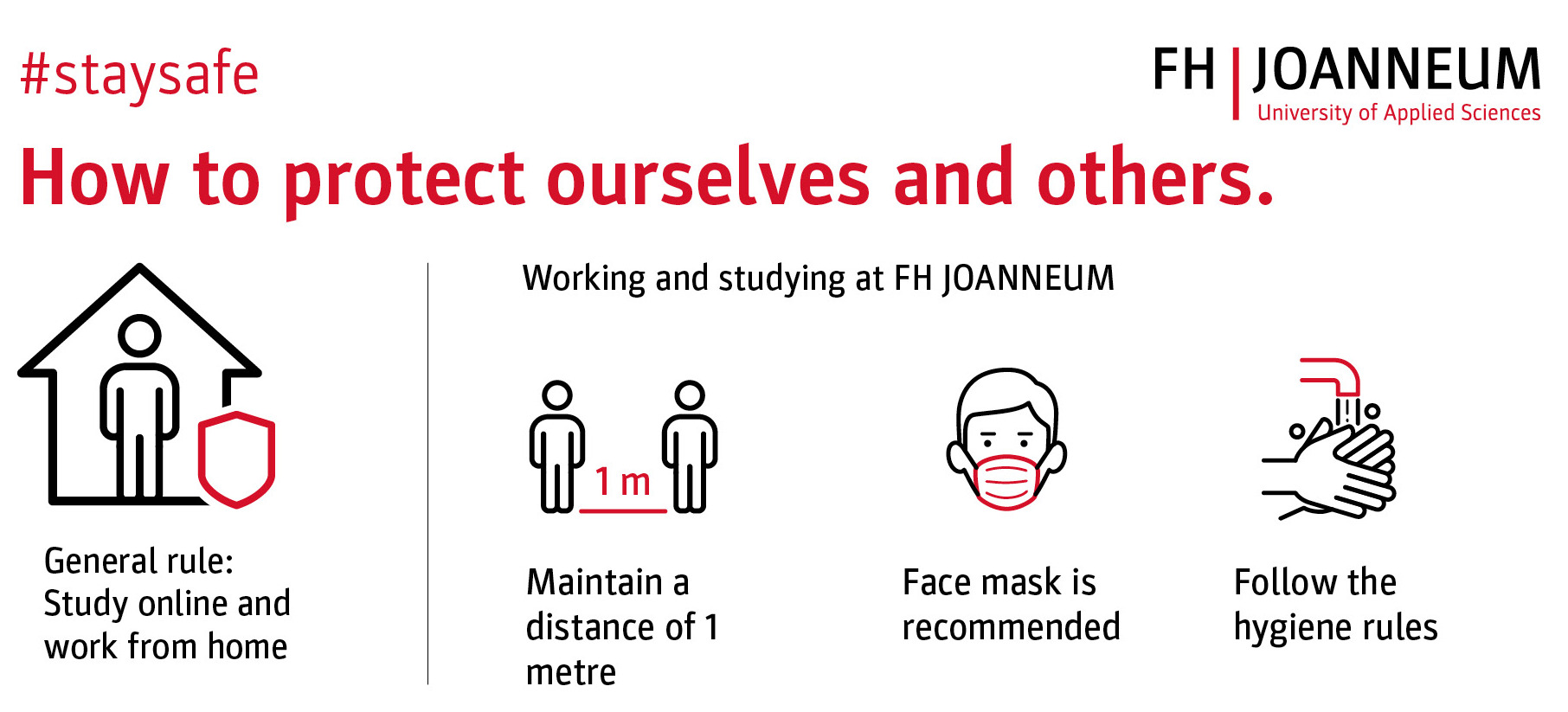 Under the motto "How to protect ourselves and others" FH JOANNEUM staff can begin to return to FH JOANNEUM from 4 May 2020 and students from 18 May 2020.
Although the basic rule of 'study online and work from home' continues to apply, working and studying at FH JOANNEUM will again be possible and the restrictions on business trips will be relaxed, when all the relevant guidelines are followed. In exceptional cases, students will be able to take exams and attend individual courses at FH JOANNEUM in person from 18 May 2020, unless this is prohibited by new regulations.
Click here for the guidelines for staff and here for the guidelines for students.
Studying and working at FH JOANNEUM
Students and employees should observe the following three rules while on the FH JOANNEUM premises:
A distance of one metre must be maintained from other people in all FH JOANNEUM rooms and open areas.
A face mask must be worn in all FH JOANNEUM communal areas if a one-metre distance cannot be maintained.
The following hygiene rules must be observed:
Disinfect your hands when entering the building.
Observe coughing and sneezing etiquette.
Practise good hand hygiene. Disinfectant dispensers are available at the entrances.
Please stay at home if you have symptoms such as a high temperature, a dry cough or if you feel unwell.
Study online
In order to allow students to complete the summer semester in an orderly manner, some degree programmes have extended the summer semester to July and September. No courses will be held in August. Click here for more information.
Application and admission
The deadline for the summer application round will be extended to 8 June. The 2020 admissions process for the spring, summer and autumn application rounds will be adapted to the current situation. Click here for more information.
Events and graduations
We have taken the decision with a heavy heart to cancel our Summer Party and the 25th anniversary celebration and also to postpone all graduations to October and November 2020. The Applied Holidays event for our children and their friends will take place in the last week of the summer vacation from 7 to 11 September 2020, subject to federal government regulations.
Click here for more information and updates on COVID-19.
Click here for Frequently Asked Questions on COVID-19.
Click here for all information for students.