Memo
Study online: Info for students
Update of 13 July 2020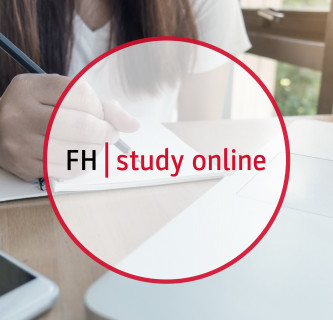 Please note: Students find all the information for the new academic year 2020/2021 at FH JOANNEUM here.
Monday, 13 July
Summer has begun and the last exams are almost over. The past few months have been turbulent for all of us with plenty of new challenges to face – but together we have managed things well. Our primary goal was to ensure that you were able to complete this semester without any significant disadvantages. We would like to thank you for your cooperation and understanding which have enabled us to successfully get through this time. Now that lectures are finished, it's time to recharge your batteries so that you can start afresh in autumn.
Teaching and exams
We are not yet sure what form teaching will take during the winter semester of 2020/2021. We very much hope to welcome you back to FH JOANNEUM but are also preparing for online teaching. Essentially it's a case of: digital first. We are planning both classroom and online teaching with online lectures accounting for around 30 to 50%. If social distancing still applies during the winter semester 2020/21, this means that classes of over 30 people are best held online. In some subjects, we will offer a combination of online and classroom teaching by streaming lectures.
The current guidelines for examinations will continue to apply from 1 July 2020; Bachelor's exams, Master's exams and board exams can currently go ahead in person.
News from the FH Library
Over the last few months, the library has purchased close to 2,000 ebooks (of which approx. 1,000 are in English). With the support of various departments, the following ebook packages were purchased from the Springer Verlag publishers:
As an additional reaction to the access restrictions, we have purchased numerous books requested by our students in ebook format since April. All of these and other ebooks can be found in our online catalogue (VPN required).
At the library, we would like to remind you of the service restrictions in place (incl. on interlibrary loans) and of the temporary closure due to the switchover to a new system. Thank you for your understanding. Got any questions, requests or suggestions? Simply let us know at the library.
Access to FH JOANNEUM
Access to the FH JOANNEUM buildings will be possible using your student ID card until at least 31 August 2020. Please try to limit your visits to FH JOANNEUM to examinations and lectures only. It is not permitted for students to linger in the buildings.
As soon as the regulations change, we will announce this on our website and social media channels. In the meantime, we wish you a relaxing summer and look forward to seeing you again soon!
Tuesday, 26 May 2020
Updated version of 19 May 2020: Examination procedure during Covid-19
These rules replace the rules dated 19/03/2020 and will be valid from 01 June 2020 to the end of the summer semester in September 2020. Examinations held after 01 June 2020 will be subject to the version of the rules dated 19/03/2020 if the student has registered for the exam prior to 01 June 2020.
FH JOANNEUM strives to use digital media to ensure that even in this time of crisis academic life and exams run smoothly and on schedule and students do not suffer any disadvantages if possible. Given that the situation continues to be difficult to assess, the following options will be offered for oral and written examinations.
Online exams: All exams that do not require physical contact must be held online. (1)
Alternative forms of examination are also possible, e.g. options for providing other evidence of achievement.
In-person exams are currently only possible in exceptional cases, e.g. where a certain infrastructure is required or the examination involves large student cohorts. Online examinations are subject to all applicable provisions. Due to the current situation, the exam dates and how they are taken should be as flexible as possible and in agreement with the students.
This guide provides you with information about the provisions applicable to online examinations.
(1) Students have three examination attempts (initial examination with two dates, resit, board examination) in online exams, corresponding to the provisions applicable to in-person exams acc. to § 15 (2) of the Study and Exmination Regulations.
Thursday, 30 April 2020
Staysafe: How to protect ourselves and others
The following instructions and guidelines represent a first step towards slightly easing the access restrictions in place at FH JOANNEUM from 4 May 2020. Protect yourself and your fellow students. Study online wherever possible.
Studying at FH JOANNEUM is possible under the following three conditions:
1) A distance of one metre must be maintained between you and other people in all FH JOANNEUM rooms and open areas.
2) A face mask must be worn in all FH JOANNEUM communal areas if a one-metre distance cannot be maintained.
3) The following hygiene rules must be observed:
Disinfect your hands when entering the FH JOANNEUM premises.
Observe coughing and sneezing etiquette.
Practise good hand hygiene. Disinfectant dispensers are available at the entrances.
Please stay at home if you have symptoms such as a high temperature, a dry cough or if you feel unwell.
The guidelines can be found here.
Tuesday, 14 April 2020
Semester extended
In order to allow students to complete the summer semester 2020 in an orderly manner, the FH JOANNEUM Board decided on 9 April 2020 to make the following changes to the 2019/20 academic year:
The period during which classes can be scheduled will not end on 29 June 2020, but on 31 July 2020.
All degree programmes and postgraduate courses at FH JOANNEUM are thus free to continue their regular operations until that date as required, i.e. lectures, examinations, internships etc. can be scheduled within this period.
No courses or exams will be held in the period from 1 August to 31 August 2020.
The period from 1 September 2020 to the start of the winter semester 2020/21 is not considered a period free of classes and is thus subject to the rules described in point 2).
Lectures scheduled for the summer semester 2020 should only be postponed to the months of July or September in exceptional cases and where this is urgently necessary.
Lectures, examinations and internships may be postponed or brought forward semester-wise in exceptional cases. It must be ensured, however, that the measures do not place an undue burden on students and lecturers.
Teaching will be delivered mainly online until the end of June in accordance with the regulations put in place by the federal government.
Friday, 3 April 2020
Measures extended until at least 17 May 2020 / Guidelines for alternative civilian and militia service
In accordance with government recommendations, we will be extending our current COVID-19 measures until at least 17 May 2020. Course teaching and examinations will continue to be online until that date, if not later. We will inform you by early May at the latest about further plans for possible attendance dates during the rest of the semester.
FH JOANNEUM will do everything in its power to enable students to officially complete this summer semester. On this note, we have also introduced the option of online examinations and encourage you to use this option. Furthermore, it is planned to extend the summer semester 2020 to July and September so that, in exceptional cases, coursework, in particular practical exercises and examinations, can be completed. This has been agreed with the öh joanneum student union. Students who have been called up for alternative civilian or militia service are freed from the obligation to attend online teaching, and may postpone their examinations to the end of the summer semester 2021. The respective guidelines, and further information for students about studying during COVID-19, as well as online teaching and exams, and tips for online learning, are published here.
Thursday, 2 April 2020
Tips and tricks for learning online
Here you can find the factsheet for students.
Thursday, 19 March 2020
Oral and written exams / online exams
FH JOANNEUM strives to use digital media to ensure that even in this time of crisis academic life and exams run smoothly and students do not suffer any disadvantages if possible. In-person examinations are not possible at present.
There are no exams at all until 21 March 2020. Exams that do not require physical contact will be conducted online! This regulation will initially be in place until 19 April 2020. From 23 March 2020 oral and written online exams can be held in the form described here. Any existing online examination methods can continue to be used unchanged.