Kurzmitteilung
Tarek Leitner as a Guest in "Public Communication"
ZiB anchor gives a special lecture at the start of the semester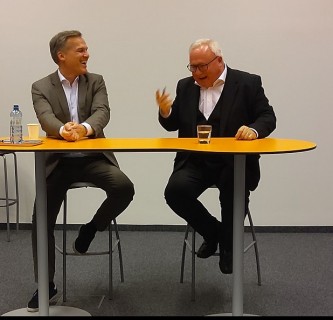 At the opening of the new master's course "Public Communication" , ZiB anchor Tarek Leitner spoke not only about current events in Austria, but also about the future of television as a medium.
On Friday, October 8, 2021, in a Special Lecture at FH JOANNEUM, Tarek Leitner gave insights into his work as "Zeit im Bild" anchor and head of the event-related "Round Tables" at ORF. In the talk with the head of the master's course Heinz M. Fischer, Tarek Leitner shed light on current media issues, background information on ORF, and the effects of digitalization on the media.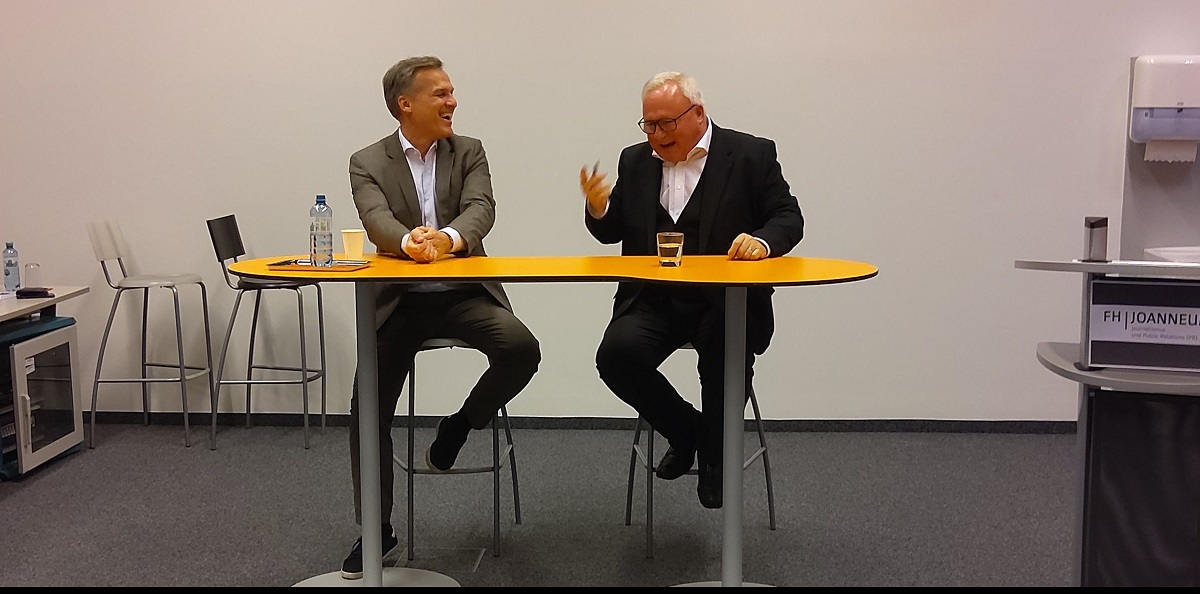 Tarek Leitner and Heinz M. Fischer
"Television will continue to exist as a medium for a longer time," said Tarek Leitner. In the newsroom, information is collected and played out via various channels. Among other things, ZiB is also present on social media channels in order to reach a young age group.
Tarek Leitner reported on two current projects at ORF. The new newsroom and the digital platform "ORF Player" are currently under development. In the new multimedia newsroom, the various editorial departments, graphics, technology, and programme management will work under one roof. As a digital platform, ORF-Player will offer various channels for livestreams, podcasts, and more.
Answering the questions of the participants of
In the concluding discussion, Tarek Leitner answered the questions of the participants of the Public Communication course on political communication, digitization, the unpredictability of current events, experiences in moderation and dealing with social media.