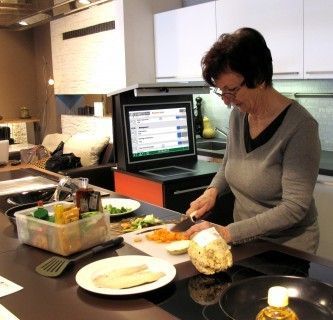 An important factor in ensuring a healthy old age, free of discomfort, is the right nutrition. The DIAFIT project examines how an interactive terminal integrated into the kitchen can function as a digital nutritional assistant and help older people maintain a healthy lifestyle.
The personal kitchen terminal
What happens if you have to be careful about your diet because of health issues, but you're standing in the kitchen with no dietician on hand for advice? The DIAFIT project has developed a kitchen terminal that can help in this situation, and which is designed specifically to support the elderly when cooking. The DIAFIT terminal consists of a standardised kitchen assembly module equipped with a camera, kitchen scales and a touch-sensitive screen. It houses a computer filled with information about 16,000 food items and their respective nutritional values.
The camera recognises the type of food, or reads its barcode, and the scales measure its weight. In the background DIAFIT's dietary software logs and analyses the nutritional value in terms of the user's daily nutritional requirements, and formulates appropriate recommendations for sensible adjustments or supplements in order to ensure adequate nutrition.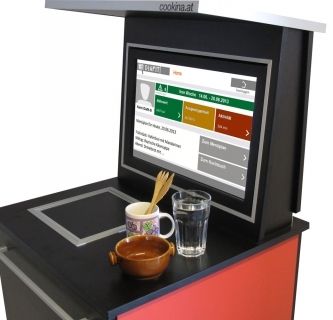 Menu suggestions and other recommendations
"The user's nutritional requirements and health condition can be entered into the kitchen terminal, for example, whether someone is struggling with Type 2 diabetes or obesity. Our prototype then gives appropriate nutritional and exercise recommendations in accordance with these inputs," explains project manager Walter Scheitz. The system also suggests entire menus, as well as recommendations on how to sensibly adapt or supplement favourite recipes.
More fun
The prototype DIAFIT terminal was tested in a kitchen manufacturer's display kitchen together with a test group of people between the ages of 65 and 80. "The test cooking showed that, although the terminal does need getting used to, all-in-all it was hugely enjoyable for the testers," says Walter Scheitz, summarising the results. The module can be developed into a market-ready product if there is sufficient commercial interest. In addition, a mobile version can also be developed for use on tablets and smartphones, so that nutritional advice is on hand at all times, even in a supermarket or restaurant.