Bachelor's Thesis | Information Design
Hey, who are you?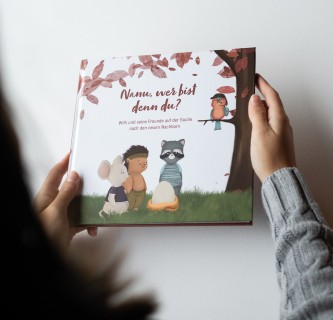 Many children are growing up surrounded by technology, using smartphones and tablets as part of their everyday lives. It is important to recognise the added value of mobile devices in the early stages of a child's development and to use them educationally.
This bachelor's thesis deals with the conception and design of a children's book in conjunction with augmented reality (AR) content. The book aims to increase primary school children's motivation to read more through increased engagement using AR. Current books using AR were analysed and the findings were incorporated into the book's design process. The theoretical part of this bachelor's thesis is concerned with the current situation on the German-speaking market, such as children's reading behaviour and media use. In the practical part, the design and technical aspects of the book prototyping process are discussed and documented: from concept to implementation of the AR enhanced children's book.