Bachelor's thesis
Maybe you were a beat of a wing
What makes a book a children's book?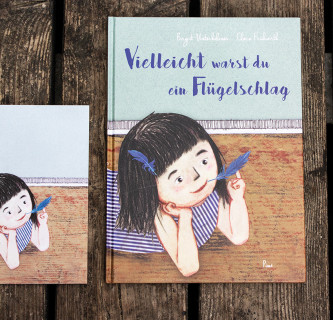 What makes a book a children's book? In both theory and practice, this thesis establishes the medium at the interface between design and art. In order to discover the essence of children's books, it examines terminology and the characteristics of the genre. Different design possibilities within the structure of a children's book, as well as methods of image analysis are presented and investigated. The book as a literary genre is explored within its various possibilities.
It is not possible to provide an all‒encompassing compendium of children's book design — the topic is too extensive and the possibilities are too diverse. Therefore the focus is not on concrete guidelines, but on areas of opportunity. Children's books are autonomously aesthetic products with their own laws, hence this thesis aims to provide a platform with which to encounter the possibilities of the children's book in its variety.