Master's Thesis | Exhibition Design
Project Vitra 19
Touring exhibition or sales instrument?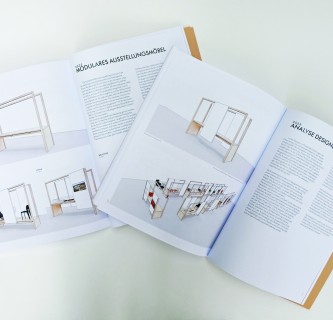 In a collaboration with the Vitra International AG in 2019, the exhibition Project Vitra. Design, Architecture, Communications (1950—2017) was to be scaled down from a total size of 400m2 to a compact traveling exhibition. The company wished to be represented both culturally and commercially. On the one hand products should be marketed, on the other hand design history should be conveyed.
The following questions came up: How can a touring exhibition be planned in order to function in varying locations without a specific choice of exhibits? How can the brand be strengthened and design manifested at the same time? How can such a traveling exhibition function as a commercial show as well as a cul- tural exhibition? The concept for the touring exhibition Project Vitra 19 was part of this thesis, but it also deals with touring exhibitions in general as well as with the medium exhibition and its role between economy and culture.