Project
V2WORK
Strengthening the Vietnamese Higher Education System to improve graduates' employability and entrepreneurship skills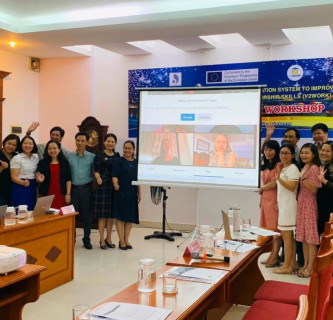 V2WORK is a 3-year project whose aim is to strengthen the capacities of the Vietnamese HE System to improve the employability & entrepreneurship skills of its graduates.
V2WORK specifically aims to:
Modernise career support services of 8 Vietnamese HEIs by building institutional & human capacities in employability and entrepreneurship skills so they can become efficient & dynamic instruments to promote & support employment & entrepreneurship among HEI students & graduates.
Reinforce university-enterprise relationships through the development of mechanisms to foster active involvement of enterprises in the Career Centres.
V2WORK will achieve these objectives by:
An in-depth analysis of current situation of graduate employability & labour market needs to define partner trainings & institutional needs
Building Vietnamese HEI Career Centre staff capacities on professional competences & sectoral skills
Launching new employment/employability/entrepreneurship services in each HEI
Undertaking targeted networking actions between HEIs & industry
Creating a Network of HEI Career Centres in Vietnam
Project Partners
The partnership is complemented by 3 EU HEIs with strong student employment & entrepreneurship support services & vast experience in capacity building initiatives:
Higher Education, represented by 8 Vietnamese HEIs with a balanced distribution throughout the country:

This project has been funded with support from the European Commission. This publication reflects the views only of the author, and the Commission cannot be held responsible for any use which may be made of the information contained therein.