SOCIAL EVENT
Advent Wreath Making Workshop
Intercultural competence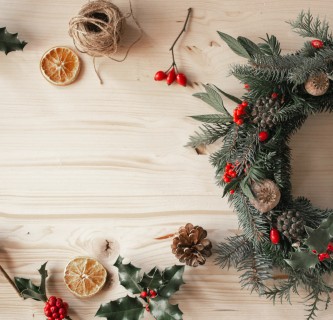 Now that Christmas time is coming closer and closer, we would like to spread the Christmas spirit and invite you to the International Office for an intercultural workshop on how to make your own Adventskranz!
What is an Adventskranz? The Adventskranz is a very old and important part of Austrian Christmas traditions and almost every Austrian family has one in their home during advent. Typically it is a wreath made from evergreen branches that is decorated with four candles - one for each Sunday during advent. Once it is finished you can add more decorations to give it a unique look or just keep it simple.
Now you have the chance to make your own and discover a part of Austrian Christmas customs! Even if you're not Christian or celebrate Christmas it is a nice way to get to know yet another part of Austrian culture, meet new people and simply have fun and spend an evening together with other students.
Tip:
This is an event for all Austrian and International students as well as refugees. There is a small participation fee of 5,00 € and of course you can take the Adventskranz you made home with you once it is finished! :D
If you want to register, please send an e-mail to flora.bodrogi@fh-joanneum.at. There is a limited number of places available so register as soon as possible. The deadline for registering is 13 November 2022.
Please also be aware that once you are signed up, we count on your participation and attendance!