Institute of
Business Informatics and Data Science
IT drives business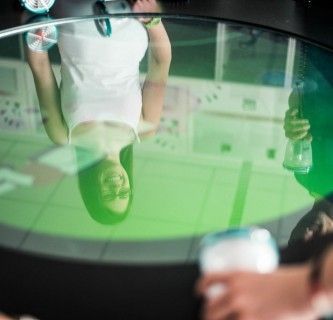 IT drives business – information and communications technologies are success factors in modern business life.
The Institute and its degree programmes
The Institute of Business Informatics and Data Science at FH JOANNEUM Graz stands for practical and interdisciplinary Bachelor's and Master's degree programmes at the interface between IT and business.
As part of the Department of Applied Computer Sciences, teaching and research at the Institute is clearly focused on practical and applied informatics, and is actively supplemented with content unrelated to the computer sciences. In line with our philosophy of research-led teaching, involvement in innovative contract research projects ensures a highly practice-oriented approach to teaching on the degree programmes. Special focus is placed on taking into account not only technological but also economic and social aspects in both teaching and research.
Research fields
Current research and development topics include
Multimedia and Interface Development and
Big Data and Business Analytics.
Multimedia and Interface Development covers topics pertaining to the World Wide Web, multimedia computer systems, smartphones and smart homes: the increasingly rapid pace at which new devices and applications are being developed raises the question of how human machine interfaces should be designed and programmed to ensure that their use is not only intuitive but also fun, and appeals to as many senses as possible.
The rapidly advancing digitisation of business and communication processes generates unimaginably large and diverse quantities of data. The challenge of Big Data and Business Analytics is to extract valuable information from the complex data in order to support decision-making by providing timely and analytical forecasts.
Collaboration opportunities
Collaboration with partners in research contracts or funded research projects
Exploration of research questions as part of Bachelor's and Master's theses