Research
Research Profile
Our research is based on Good Scientific Practice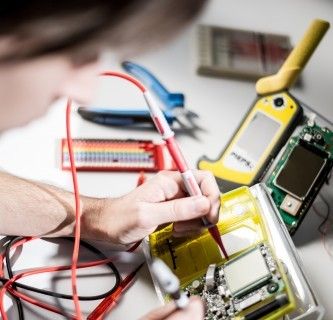 Research and development is a core area of activity for FH JOANNEUM. As a university of applied sciences FH JOANNEUM carries out research with the aim of contributing to social development and solving complex problems and issues of our time.
For the benefit of society
Against this background, research and development is a prerequisite for the internationally recognised education provided by FH JOANNEUM, which is based on permanent transfer of knowledge between teaching and R&D. Student involvement in research projects constitutes a decisive factor for the success of this career-oriented and scientifically grounded training.
The FH JOANNEUM research strategy rests on three pillars emphasising the social significance of our R&D activities: It promotes ecologically, socially and economically sustainable concepts. It is focused on benefit to society and the living space of individuals and groups. It is committed to an understanding of innovation that combines creative impetus with a solution and market oriented approach.
Multidisciplinary research as a social mission
The complexity of the questions and issues confronting modern society and thus also modern science demands approaches and solutions that can only be generated through joint efforts by different disciplines. FH JOANNEUM thus sees modern research as a multidisciplinary mission to be fulfilled not only within the multitude of degree programmes but also within and across the four divisions.
The applied research offered by FH JOANNEUM ranges from the transfer of results from basic research to innovative services and developments. This ensures a close link between research and teaching and a high relevance for practical application.
We see modern research as a multidisciplinary mission to be fulfilled not only within the individual institutes but also within and across the six departments:
Driving force for Styria with an international focus
The prime task of FH JOANNEUM as a university of applied sciences is to act as a driving force for Styrian business and industry and to strengthen the competitiveness of the region. Small and medium-sized enterprises are especially encouraged to make use of the innovative dynamics and expertise of FH JOANNEUM through cooperation and partnership.
FH JOANNEUM conducts research at a European level and seeks to consolidate its position as a key player in the international research landscape and to contribute its R&D expertise in cross-border network projects.
Close cooperation between the Styrian universities, research institutions and science networks are indispensable to establish and consolidate the position of Styria as a centre for international research. FH JOANNEUM aims to achieve this objective by actively pursuing innovative cooperation models within the tertiary education sector and beyond.