Services
Study Center
All services in one place.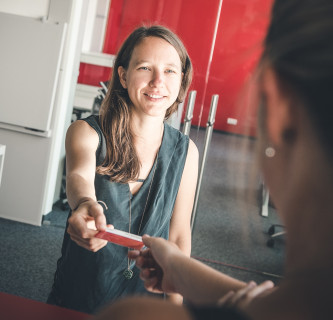 Study Info. IT Helpdesk. Study Lounge.
Our new service facility serves as a personal contact point for students, applicants, prospective students, alumni and lecturers. The new Study Center at FH JOANNEUM provides a central study information point as well as a lounge area for advice and a small FH shop.
Study Info
The team from the Department of Continuing Education, Study Administration and Study Law will deal competently with any personal concerns you may have. We will handle your enquiries, either answering them immediately or forwarding them on to the relevant people. We can provide advice on issues such as applications, the admission process and recognition of foreign degrees. Students will also receive their student ID card in the Study Center, photo included.
Opening hours
During semester:
MON, TUE, THURS: 08:00–16:00
WED: 08:00-17:00 Uhr
FRI: 08:00–15:00 Uhr
During vacation: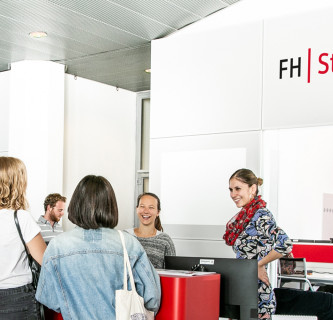 Tip:
Tip: Bachelor's and Master's theses can be handed in at the Study Center and are then sent to the TU Graz for binding and printing. The finished copies can then be collected, fresh off the press, from the Study Center.
IT Helpdesk
Guidance and advice on IT questions. Help with registration. Password management service. Setting up emails and VPN. Charging facilities for mobile phones. Ticketing system on-site. Installations on FH JOANNEUM devices. Members of the Central IT Services team are on hand to provide help and advice at the Study Center.
First Level Support
During semester:
MON, TUE, THURS: 08:00–16:00
WED: 08:00-17:00 Uhr
FRI: 08:00–15:00 Uhr
During vacation:
MON – THURS: 08:30–15:30
FRI: 08:30–14:00
Note:
Extended IT support for students and lecturers on part-time degree programmes and postgraduate courses at FH JOANNEUM Graz: Our team is available on-site ** on Thursdays from 17:00 to 22:00, on Fridays from 15:00 to 22:00 and on Saturdays from 08:00 to 16:00 at Eggenberger Allee 11, room 308**.
Course Guidance
Want to find out about our wide range of course offers, explore a professional field in greater depth and/or choose the right course for you? Our team would be happy to discuss this with you in person in the Study Lounge – study your dream.
Counselling
MON + THURS: 9:00–12:00
WED: 14:00–17:00
Please call to arrange in advance!
Telephone advice
Enquiries by email
International
Internationalise yourself! The International Relations team supports incoming and outgoing students with their trip abroad. We can provide advice on scholarships and grants for international and mobile students as well as information about our intercultural activities and international programmes such as Erasmus Mobility. Students at FH JOANNEUM can also collect their International Student Identity Card (ISIC) from the Study Center.
Advice & information
TUES + WED: 09:00–12:00
THURS: 13:00–15:00
öh joanneum
We provide information on study grants, legal issues related to studying, campus life and various funding opportunities.
Advice & information
WED: 14:00–16:00
THURS: 14:00–16:00
FH Shop
Our sustainable product range extends from FH stools and FH cups to T-shirts featuring our symbols, pencils and pens. So drop by and take a look – you might find exactly what you need!
Prices (incl. VAT)
T-shirt: 10 euros
Pencil sharpener: 1 euro
Pencil: 1 euro
FH cup: 8 euros
Wooden pen: 1 euro
Click pen: 2 euros
FH stool: 10 euros
A4 notepad: 1 euro
USB stick: 8 euros
FH paper bag: 20 cents