Department of
Applied Computer Sciences
We connect people and systems.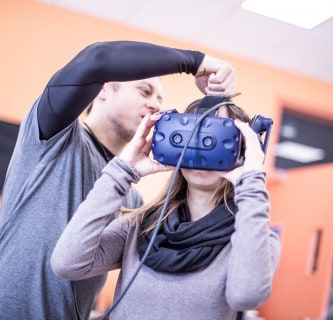 "The cloud, connection, cyber, customisation, community – in short: smart technologies – are the key topics of our time. Being skilled in handling modern information and communication technologies is equally important as understanding their application in practice. The Department of Applied Computer Sciences perfectly meets these requirements in teaching and research. We develop smart technologies combining modern applications with state-of-the-art technological methods, taking into account not only technological but also economic and social aspects."
The Applied Computer Sciences Department develops effective, efficient and secure IT products and systems and cooperates with institutions and companies in industry and business, particularly in the healthcare sector.
We work in interdisciplinary teams to develop IT solutions which incorporate all the various technological, economic, legal and societal aspects at multimedia level. In integrating a diverse range of systems we take particular care to implement solutions that are user-friendly, secure and future-oriented.
Graduates from our computer science programmes are known for their networked thinking. As IT experts they possess in-depth technological know-how as well as business skills and creative talent.
Research areas