Institute of
Health Care and Nursing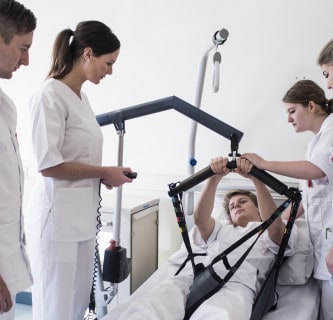 Research is carried out in multidisciplinary collaboration with other institutes of the Department of Health Studies. The individual degree programmes and institutes focus on topics including obesity, exercise, healthy ageing and health literacy. The Department has forged networks with relevant stakeholders in the health sector to establish itself as a recognised partner in achieving health objectives and to gain visibility in Styria as also at the national and international level.
Simulation in nursing training
Nursing staff must have a wide range of skills to meet the increasing demands and complexity of modern healthcare. The use of new teaching and learning methods such as simulation training is essential for meeting these challenges.
The Institute of Health Care and Nursing at FH JOANNEUM uses simulation-based teaching to make an important contribution to quality assurance in nursing care. Highly skilled nursing professionals are indispensable for mastering the challenges of ever greater complexity in the healthcare sector.
Simulation in nursing training can take various forms:
Skills and task trainers such as injection training arms to acquire and consolidate technical skills
Low-fidelity and high-fidelity simulators, or manikins, offering different levels of realism and interaction
'Standardised patients', with lecturers, students or actors playing the patient role
Circle of Learning
The healthcare and nursing courses taught on this FH JOANNEUM degree programme are modelled on the 'circle of learning' approach. Content is taught in lectures and subsequently consolidated by skills training in small groups using high-fidelity simulators such as Nursing Anne.
In the next step, students apply the knowledge and practical skills acquired in simulation scenarios. The simulations allow them to prepare for clinical internships in which they are confronted with real-life nursing situations. Experience gained from the internships is then continuously integrated and discussed in the lectures.
Bachelor's Degree Progarmm