Memo
Merry Christmas & Happy New Year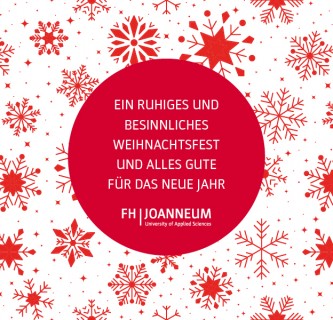 Another turbulent "Corona year" is coming to an end and the Christmas season now invites us to reflect on the essentials.
FH JOANNEUM wishes all employees, students and partners as well as their families a merry Christmas, good health and a large portion of optimism for the coming year! We would like to express our sincere thanks for the trustful cooperation.
FH JOANNEUM will be closed from December 24, 2021 to January 6, 2022. As of January 7, 2022, our information offices will be available by phone again. Information is available on our website.
Stay healthy! We look forward to seeing you again in the new year.