Award
Scholarship award "European Project and Public Management"
The top three candidates have been selected.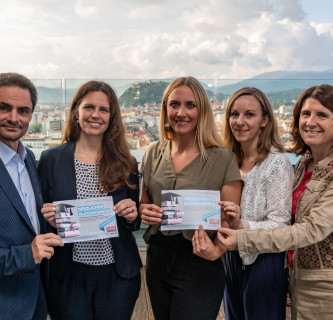 As every year, the scholarship campaign of the "Kleine Zeitung" took place, during which three scholarships with a total value of Euro 15.000,-- were awarded for the participation in the study program "European Project and Public Management".
This postgraduate course is a cooperation of FH JOANNEUM, Institute of International Management, and IBSA, International Business School Austria. Klaus Kersten (Managing Director, IBSA) and Doris Kiendl (Head of the Institute of International Management, FH JOANNEUM) were delighted to award this year's scholarships to three amazing ladies who convinced the jury with their outstanding achievements in the fields of regional development, art and culture.
Winner of the full scholarship, Kerstin Luise Weber (middle)
For several years, Ms. Weber has been responsible for the Voitsberg sub-region as a regional developer. Her tasks include the strategic development of the region as well as the handling of (co)financed EU and federal state projects. Furthermore, Ms. Weber is the project manager of the regional project "School Social Work in Styria" in Graz Umgebung, where she is responsible for content, finances and the project's implementation. She leads a team of six school social workers. Ms. Weber sees her professional future in community and regional development and looks forward to excellent career opportunities after her studies.
Partial scholarship winner, Manuela Slanovc (2nd from left)
Ms. Slanovc has successfully completed her studies in Economics and convinced with more than 8 years of professional experience in project controlling. Her main interest lies in cross-border regional development. In her future studies she is looking forward to learning about modern Project Management Tools and to further developing her intercultural management and networking skills.
Partial scholarship winner, Maeva Riona Doyle (2nd from right)
Ms. Doyle's experience in youth work, art, culture and regional development has convinced us that she definitely needs to be part of our new cohort.
As daughter of an Austrian mother and an Irish father, Ms. Doyle has always been in contact with different cultures and languages. In 2014 this resulted in a job offer from the non-profit association "Art Mine" where she promotes intercultural dialogue.
In her role as deputy chairman she became acquainted with the wide offer of the EU program Erasmus+. Her "Art Mine" projects include a series of concerts in Upper Styria (Tower of Songs) as well as an art project for uniting people (See the Big Picture).
Note:
The cohort will be launched on 15 March 2019. Further applications are welcome and should be sent to: Ulrike Dernoscheg