Award
Winners of the Youth for Innovation Contest 2020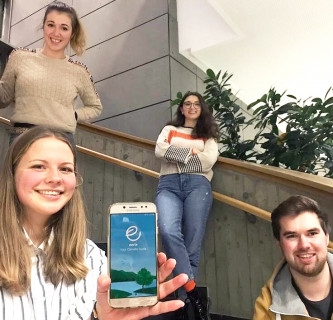 Our master students from Business in Emerging Markets, won the local student contest with their creative pitch and solution for a young impact venture, beating 15 other teams in this year's the European Young Innovators Festival (EYI).
Between November 30th and December 2nd, the European Young Innovators Festival brought together the pan-European community of young digital and purpose driven innovators. Since many years, Graz is hosting the EYI Festival turning into a hub for social innovation, entrepreneurship and European youth exchange. This year, Graz was the starting point of a virtual journey offering a truly unique insight into young entrepreneurship from all over Europe, the latest digital trends, and international perspectives on innovation.
Under the Festival, the Youth for Innovation students' contest takes place. Their task is to analyse the impact ventures, come up with potential solutions and insight to improve their business and pitch their idea in front of an expert jury, all within only 3 days! 90 students divided in 17 groups from two different universities and FHs from Graz were participating in this years' edition.
Our first year students of Business in Emerging Markets master program were awarded with the first place in the contest. Charlotte Nabinger, Fatos Cobanoglu, Lara Weitgasser, Simon Willberger delivered a very creative pitch, analysing the venture EEVIE.
"Three days of getting to know interesting people with innovative ideas and meaningful projects. Winning the YFI with our creative and unusual pitch was a surprise to us since it could have gone completely wrong as well. For this reason, we are happy that people did like our idea! Thank you to the WSA team for the great organization of the European Young Innovators Festival 2020! A big thank you also to FH JOANNEUM for making this possible!"
Encouraged by lecturers, the first-semester students of Business in Emerging Markets take part in the local student program of EYI every year. Under the lecture 'Business Development and International Marketing' led by the lecturers Ligia Pasqualin and Denny Seiger, student teams were supported in the challenge.
"Every year, our first-semester master students are working hard into a very demanding challenge to develop business analysis, potential improvements and an engaging pitch within a very short time span. I am really proud that for the third consecutive year our students' pitches impressed the international jury and the entrepreneurs of the European impact ventures."
One of our Business in Emering Markets teams also got the third place in the competition, with the analysis and pitch for the impact venture "VARS - AR & Tourism" with the students: Andrea Schachl, Bojan Ivanusa, Balint Kiendler, Leon Bader and Melanie Krainer.
The European Young Innovators Award (EYI) is an initiative of WSA – World Summit Awards. More information can be found here.