Division
Central IT Services
We make sure our IT network is running smoothly.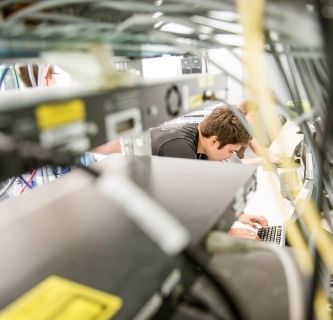 The tasks of the Central IT Services (ZIT) division include procurement and operation of the IT infrastructure at FH JOANNEUM, such as purchasing and servicing of PCs, printers, file servers, mail servers, print servers, etc. as well as maintenance and further development of central applications such as the Campus Management System and the SAP system.
The Helpdesk acts as a central contact point for IT queries such as fault reports and provides support in using Office applications, etc. The Helpdesk team is committed to resolving the problems reported quickly and efficiently.
Each organisational unit is assigned a specific ZIT team member for problems that can only be resolved on site. They support people at FH JOANNEUM in all IT questions arising from the procurement and installation of various software and hardware components.
Tip:
Further information can be found on the intranet pages of the Central IT Services at inside.fh-joanneum.at/abt/zit. The intranet can only be accessed from the FH JOANNEUM network or via VPN.
Team