Event
Open House 2020: FH JOANNEUM Kapfenberg has been cancelled
Welcome!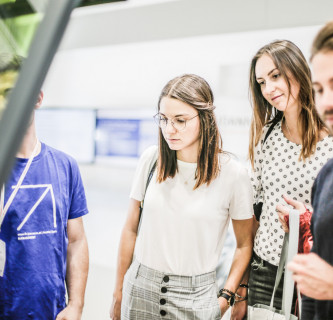 Tip:
The Open House event scheduled for 13 March 2020 at FH JOANNEUM Kapfenberg has been cancelled due to the current developments regarding COVID-19 and has been postponed to a later date in May.
All questions about studying at our university will be answered at our Open House event. Anyone interested can also gain exclusive insight into our laboratories, find out about our projects or gain a taste of student life at FH JOANNEUM Kapfenberg.
Take advantage of this opportunity to find out about FH JOANNEUM at our Kapfenberg campus and the full range of courses offered by our university. Our lecturers, students and graduates will be on hand to answer any questions. With their help, you can find a Bachelor's or Master's course to suit you. Campus tours, talks and project presentations will offer authentic insight into our university – which could also soon be yours!
If you have already decided to study with us, you can hand in your application to us directly and find out all about the admissions process. You will also receive all the relevant information about semesters abroad, accommodation and scholarships.
We offer a special programme for Master's applicants and provide information on changing courses, transferring from a different university, prerequisites and substitute tests.
Note:
Putting you in the picture:
Please note that we will record this event with photos and videos for reporting purposes. This image material may be published on our website and our social media channels. If you have any questions or concerns, please contact info@fh-joanneum.at. Further information on your rights and data processing can be found at: https://www.fh-joanneum.at/data-protection