Institute of
International Management and Entrepreneurship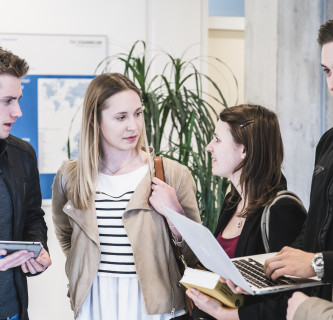 "For us, everything revolves around people: our students, lecturers and researchers. Our networks enable us to provide our students with knowledge and competence to tackle the challenges of business life. The Institute of International Management and Entrepreneurship enables knowledge transfer between theory and practice. We collaborate with a wide range of international partners and have established a close network with companies and educational institutions around the world, especially from South America, Southeast Asia and the Balkan States."
The Institute of International Management and Entrepreneurship is part of the Department of Management at FH JOANNEUM. The "Triple I" approach – International, Innovation, Industries – is vital for the success of the Department. Research-led teaching (Innovation) and the pooled expertise of four institutes are combined with a comprehensive management concept: tapping potentials in the management of organisations across all sectors (Industries).
The Institute has key expertise in International Business Strategies and Processes. Activities in this context include projects on topics such as internationalisation, market entries and international entrepreneurship with a special focus on small and medium-sized enterprises.
Another field of expertise is Quality-Oriented Higher Education Development in an International Context, where the research team focuses on the topics of employability and quality in tertiary education. The focus is on analysing what skills and competences are needed by employers in an international comparison and how the universities can provide their students with these crucial skills.
Collaboration opportunities
Collaboration with partners in research contracts or funded research projects
Exploration of research questions as part of Bachelor's and Master's theses
Services
Competence-based curriculum development and quality management of educational institutions
Implementation of cross-culturing learning projects
Customised market entry studies for companies
Strategic concepts for companies in international competition
Study programmes for Incoming Students
FIBAA PREMIUM