Department of
Management
We invest our expertise in international business success.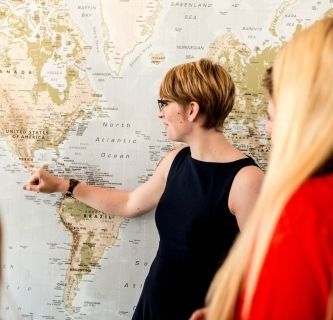 "The Department of Management covers a variety of Bachelor and Master degree programmes at four Institutes: International Management and Banking & Insurance Industry in Graz, Industrial Management in Kapfenberg, and Health & Tourism Management in Bad Gleichenberg. Our excellent lecturers, drawn from both research and business, teach management skills as well as a wide range of subject-related expertise. Our intention is to educate our students to adopt an interdisciplinary approach, and to equip them with the soft skills which are in such demand in the job market."
Capturing new markets, making companies and institutions more productive, increasing the efficiency of technical as well as business processes and realising the potential of new products and services – the Department of Management focuses on meeting the challenges of the global economy.
We manage regional and international projects in cooperation with companies and institutions in trade and industry, banking and insurance, tourism and healthcare. Our international network of academic and corporate partners enables students to gain valuable experience abroad by spending a semester at a foreign university or completing an internship with an international company.
Their intercultural expertise qualifies our graduates to take up leading management roles – both in Austrian companies as well as in the trading centres and future markets around the world.
Study programmes for Incoming Students
Research areas