Institute of
Software Design and Security
Secure and innovative information technologies of tomorrow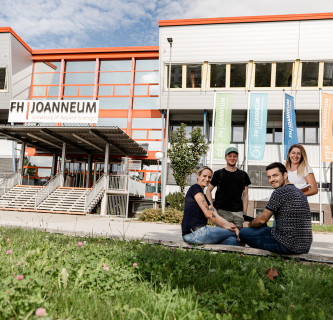 Mobile solutions and the Internet of Things require more secure infrastructures and expert knowledge.
The Institute and its degree programmes
The Institute of Software Design and Security, located at the FH JOANNEUM Kapfenberg campus, works in applied computer sciences across all industry sectors and associated mobile applications. Research fields at the Institute include IT Security and Mobile Applications.
As information and communications technologies (ICT) become an increasingly integral part of our daily lives, this field is growing extremely rapidly. The degree programmes run by the Institute provide the basis for a successful career in IT at all levels: the Bachelor's courses lay the foundations for a career as a sought-after IT professional, while the Master's courses provide further qualifications, either in the technological aspects of IT security or in IT management. Students gain in-depth knowledge by learning from the Institute's dedicated and professional IT experts who are specialists in the practice-oriented application of research.
The Institute's specialists carry out research projects in close cooperation with industrial companies in Styria, treading new paths in the field of online teaching and develop the secure and innovative information technologies of tomorrow. This top team is supported by selected experts from the IT industry who offer the students the opportunity to benefit from their experience. In doing so, the Institute of Internet Technologies & Applications is making a valuable and enduring contribution to both knowledge in this field and our knowledge society as a whole.
Graduates of the Institute's degree programmes enjoy excellent employment prospects, thanks to their solid training and plentiful demand for qualified IT specialists.
Collaboration opportunities
Collaboration with partners in research contracts or funded research projects
Exploration of research questions as part of Bachelor's and Master's theses