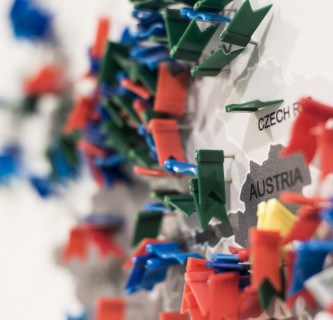 Here you will find an overview of things to consider after you have completed your stay abroad.
Credit for the workload you achieved abroad
The courses you have actually completed must be filled in to the form "Learning Agreement - Section to be completed after the mobility" (Erasmus+) or "Antrag-Anerkennung-Studienerfolgsnachweis" (Joint Study, Freemover) where you proposed your study programme abroad. The head of your department has to review and confirm this form in order to give you credit for the workload you achieved abroad. In order to prove that you have completed the courses you will need the Transcript of Records which was issued by your host institution.
For beneficiaries of the Austrian study grant this document also serves as proof to be submitted to the study grant office.
For Erasmus+ students:
In addition, for ERASMUS+ stays abroad, the EU Survey in Erasmus Online must be completed and a confirmation of stay must be submitted. If you have also received a Top-Up, then the relevant evidence must also be uploaded in Mobility Online. After that the last rate of the ERASMUS+ grant will be paid.
Note:
The download and upload of these documents is handled via the workflows in Mobility Online.
Erasmus+ Online Linguistic Support (OLS)
At the end of their mobility period, participants can take a second assessment to assess the progress made.
Reflexion workshop
After your stay abroad, we offer a critical reflexion workshop where you can give a short presentation and critically review your experience and exchange it with others. You will receive a certificate at the end of all 3 parts. The accompanying seminar for your stay abroad can be credited (2 ECTS) for the Intercultural Skills Certificate (ISC).
Intercultural Skills Certificate
It's high time to demonstrate your intercultural skills! Intercultural competence and an understanding of interculturalism are increasingly becoming key qualifications for future careers. Both signify confidence in your ability to move in different cultural and linguistic settings, to think inclusively, and to feel secure in the role of "being foreign". Intercultural skills also include a solid level of fluency in foreign languages, a great talent for observation, and openness to people from different cultural backgrounds.
Study Abroad Fair
Returning Study Abroad students can take part in our Study Abroad Fair and represent their host institutions at an information stand. Take this great opportunity to talk to other interested students and motivate them to go abroad! The best stand wins a prize!
Contact the International Relations Office for more information and registration.