JOANNEUM ACADEMY
E-Learning Day
Online knowledge in a nutshell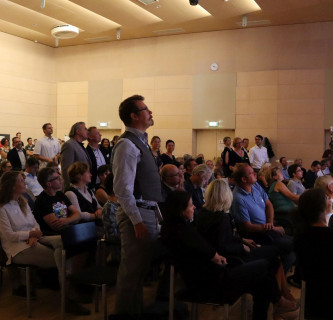 In the annual E-Learning Day, we offer the opportunity for mutual exchange on current and future e-learning trends to all those interested in e-learning as well as experts - which has been successfully used for 21 years now. The E-Learning Day is aimed at people interested in e-learning, especially university lecturers, teachers, trainers and everyone involved in the field of e-learning.
E-Learning Day 2023
The 22nd E-Learning Day will be different - after being held online for three years, it will once again take place on site. Instead of a classic interactive conference, the participants will take part in a simulation game in which we aim to collect ideas for the development of a modern, state-of-the-art (bachelor's) degree program. In addition, a conference volume will be published in which the authors will look at the past, present and future of online learning and teaching in different ways.
Under the motto We play! And celebrate 25 years of ZML - Innovative Learning Scenarios at FH JOANNEUM we are looking forward to welcoming you again at the E-Learning Day at FH JOANNEUM in Graz on September 19th, 2023.
The simulation game
As "masterminds" you are invited to discuss new and innovative aspects of formal educational offerings and to define the framework for a future-oriented (bachelor) degree program in terms of content, methodology and organization. In doing so, you will take on one of thirteen predefined roles (not the one you have in real life) and represent the interests of your role in the respective group discussion. The important thing here is that anything and everything may be considered. The group brainstorming processes yield insights not only for the higher education sector and the formal education sector, but for learning processes in general.
We look forward to your registration and participation - this year we will meet in person!
Tip:
The E-Learning Day is a German event!