Award
Three students honoured at the ADC Awards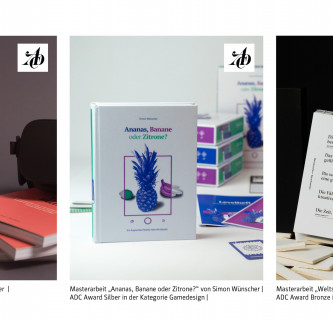 This year again, students of the Institute of Design and Communication were able to convince the jury at the presentation of the ADC Junior Awards.
The ADC Awards are presented annually by the Art Directors Club, the professional association of leading art directors in the advertising industry. In recent years, students of the Institute for Design and Communication have also regularly participated successfully with their final theses in the ADC Junior Competition. At the Junior Awards, outstanding theses by students from a wide range of disciplines are honoured. And this year, three students of the Institute of Design and Communication again received an award from the Art Directors Club.
In the category Game Design Simon Wünscher was awarded silver for his master thesis "Pineapple, Banana or Lemon? An Augmented Reality Hybrid Board Game".
Julia Baldaufs, who was already awarded a Red Dot Design Award for her master's thesis "Welt Sprachen - Sprach Welten" in 2019, won bronze.
Elisa Gostner's master's thesis "Virtual Valencia" also convinced the jury and was awarded bronze in the "Digital" category.
The awarding of prizes to the final theses from different directions is not only a tribute to the excellent performance of the students. It also reflects the broad educational and developmental opportunities for the students of the individual degree programs at the institute.