Research
AIRlabs Austria
Aeronautical Innovation & Research Laboratories Austria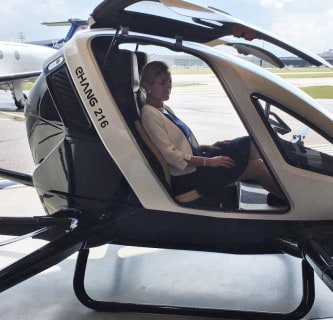 FH JOANNEUM, together with recognised partners from science, industry and the service sector, has launched a project to establish and operate test and trial sites for unpiloted aerial systems (UAS) in Austria.
The infrastructure project focuses on establishing a test environment covering all development stages from simulation to actual flight tests in public airspace. The project is funded under the "Take off" programme of the Federal Ministry of Transport, Innovation and Technology (BMVIT) and the Austrian Research Promotion Agency (FFG).
The five-year infrastructure project aims to establish and operate a nationwide Austrian innovation lab bringing together all key stakeholders, i.e. users, industrial enterprises and research institutions, in a consortium led by FH JOANNEUM. Current and future requirements in the research, development and validation of unpiloted aerial systems (UAS) will be addressed in a sustainable way.
The tests will be based on a multisite concept and involve various drone applications such as flight dynamic characteristics under challenging weather conditions in the alpine area, urban flight operations, as well as the monitoring of critical infrastructures such as energy networks.
The consortium
The project consortium includes partners from science, industry and the service sector in order to provide the best possible support for the innovative developments of the Austrian UAS community together with the aviation authorities (BMVIT, ACG, BMLV).
The goals
Broad consortium operating the test sites with cash and in-kind contributions from the stakeholders involved
Multisite concept including various sites for different applications in Austria
Involvement of all interested stakeholders as consortium partners or strategic partners
State-of-the-art tests aimed at solving current and future research questions including

Beyond Visual Line Of Sight (BVLOS) drone applications,
Urban Air Mobility (UAM) and
UAS defence

Short lead times, adequate costs and customised solutions
Objective consortium management by independent institutions, not profit oriented
The 24 AIRlabs Austria partners use synergies and contribute a range of expertise:
FH JOANNEUM GmbH (consortium leader)
AIT, Austrian Institute of Technology GmbH
Drone Rescue Systems GmbH
FACC Operations GmbH
Frequentis AG
RIEGL Laser Measurement Systems GmbH
Schiebel Elektronische Geräte GmbH
twins GmbH
Graz University of Technology (TU Graz)
University of Klagenfurt (AAU)
Carinthia University of Applied Sciences (CUAS)
Lakeside Labs GmbH
RTA, Rail Tec Arsenal Fahrzeugversuchsanlage GmbH
APB Corporation GmbH
A1 Telekom Austria AG
BLADESCAPE Airborne Services GmbH
ENERGIE KOMPASS GMBH
Holding Graz‐Kommunale Dienstleistungen GmbH incl. Graz Airport, Citycom
Kärntner Flughafen Betriebsgesellschaft mbH
Kärntner Betriebsansiedlungs‐ und Beteiligungsgesellschaft m.b.H. (BABEG)
Nokia Solutions & Networks Österreich GmbH
niceshops GmbH
Österreichische Post AG
World‐Direct eBusiness solutions Gesellschaft m.b.H.
Multisite concept
A multisite concept involving several specialised sites will be established in Austria in order to cover all technology readiness levels (TRL) along the development and value chain. The concept meets the full range of requirements for different applications: it extends from indoor and laboratory tests to extensive sites for large unpiloted aerial systems and urban air mobility through to airspace integration tests. The project partners may also provide individual services, technical and infrastructure equipment and expertise in the form of in-kind contributions.
AIRlabs stage model
A seven-stage model will be used to achieve the project goals, from research and development to validation and integration. The first two steps will focus on basic research, e.g. in the form of simulations for special application areas such as an indoor flight facility or a climatic wind tunnel. Steps three and four are designed for validation in small and large airspace. In steps five and six, the solutions are then integrated in different applications, including urban flight operations and monitoring of critical infrastructures such as energy networks. Step seven is finally aimed at deployment in real-world airspace.
Benefits
The consortium partners support the establishment and operation of the innovation lab by providing financial and in-kind contributions. They actively participate in determining the focus and utilisation of AIRlabs Austria and share responsibilities in running the consortium and the test sites.
Integration of existing special infrastructure such as airports, test environments etc.