Research
AtLAS
Athletes as Entrepreneurs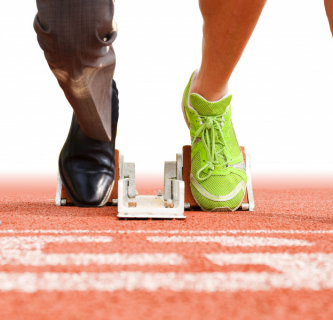 Athletes have an outstanding potential to become high-performing business men and women. In their sporting career, they acquire extraordinary skills that are also crucial to entrepreneurial success. The compact training of AtLAS offers athletes across Europe the chance to combine high-level sport and top-class entrepreneurship education.
The skills cultivated on any playing field serve Athletes professionally, beyond competitive sports. Thus they have high potential as Entrepreneurs, maybe higher than others. But such potential does not make an Entrepreneur yet. Under the slogan "Found-E successfully" we support Athletes in their development plan.
ATLAS project aims to develop a start-up training for elite athletes. We plan to develop a hands-on training programme for the Athletes who are planning to start their own business. Additionally, we would like to provide them the most current learning content in the field of Entrepreneurship adapted for the needs of Athletes with some very interesting benefits for our special target group.
The overall project objectives are:
To develop athletes' entrepreneurial competences
To strengthen athletes' knowledge about starting and running a business
To foster entrepreneurial spirit among European athletes and sport governing bodies
To connect the spheres of higher education and sport to foster dual career paths for athletes
To increase the number of well-prepared company creations and reduce enterprise death rates
Specific objectives are:
Identification of competences and knowledge gaps regarding entrepreneurship and starting a business.
Development/improvement of athletes' competence profiles in the area of entrepreneurship according to the European Qualifications Framework
Strengthening of knowledge on starting a business by the tailor-made training programme, a mentoring programme and the STARTER guide book.
Setting up of a sustainable business model for future provision of entrepreneurship trainings after the project end and establishing a framework to embed the developed trainings in the dual career systems of European countries.
Project partners:
Aarhus University
Amsterdam University of Applied Sciences
Edinburgh Napier University
Olympic Committee Slovenia
University degli Studi di Torino
WUS Austria
TW1N
AtLAS-Training
We cordially invite all athletes to participate in the AtLAS training!
AtLAS | Athletes as Entrepreneurs is a 5-week entrepreneurial training, specially tailored to the needs of competitive sports: highly flexible, reduced to the essentials and selectable as a pure online or hybrid training. And best of all: AtLAS is free for you!
At athletesasentrepreneurs.eu you will find all information about the short training and registration. Take advantage of this unique opportunity and bring your dual career to the next level - with AtLAS! AtLAS - Athletes as Entrepreneurs
Best wishes, your AtLAS Team Austria

This project has been funded with support from the European Commission. This publication reflects the views only of the author, and the Commission cannot be held responsible for any use which may be made of the information contained therein.