Master's Thesis | Interaction Design
Augmentation of an art exhibition
How to bring static content to life?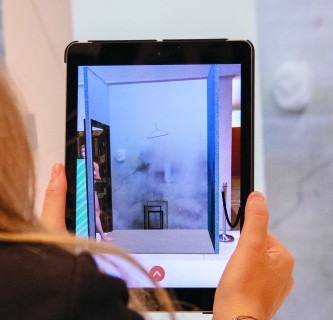 Augmented reality is becoming more and more important in exhibitions and museums, as the technology offers new ways of interaction. An augmented reality app for mobile devices was developed as part of this thesis in order to bring static content to life. Through a user-centered design process, requirements for the AR app were collected. This master's thesis serves as a decision‒making help, especially for museums and cultural institutions, as they have to choose virtual elements for their exhibitions.
So the goal is the creation of a concept for a multimedia experience and the development of a prototype based on the 10th Art Prize of the company Hypo Vorarlberg. The author gives an overview of existing museum installations, information systems and their purposes and constraints.