Projekt
CORSHIP
Corporate Edupreneurship – Benefitting Startups, Universities and Corporates across Europe
CORSHIP establishes and improves the collaboration across Europe between startups, corporates and universities with education.
Recently, a few EU corporates and startups have begun to embrace the concept of Corporate Entrepreneurship. However, cooperation often fails due to misunderstandings on both sides. Moreover, universities – traditionally exhaustive sources of innovation – are not part of this movement yet, but an academic grounding connected to certification would benefit all sides. On top, universities urgently need new partners to find answers to digital educational trends ("Edupreneurship") and changing needs (skills gap).
Therefore, CORSHIP sets out to establish a joint language between corporates, startups and universities to successfully exploit the full potential of CE across sectors and industries. This is done by connecting them through 3 core results:
the first micro-credential (a modular, flexible format stemming from MOOCs) Pilot world-wide on corporate entrepreneurship for 30 selected entrepreneurs, managers, students;
the first MOOC on corporate entrepreneurship (1.500+ entrepreneurs, managers, students);
and a unique corporate entrepreneurship Toolbox (guidelines, tools for 5.000+ users) to facilitate the collaboration between the 3 target groups.
CORSHIP gathers 7 carefully selected partners from 6 countries representing universities, corporates, startups and innovation networks. 4 Associate partners add additional business and edupreneurship experience. On top, 20 letters of support from end-users underline huge demand.
All 3 core results will be turned into permanent offers to trigger a long-term benefit for startups, universities and corporates across Europe to jointly become fit for the digital age.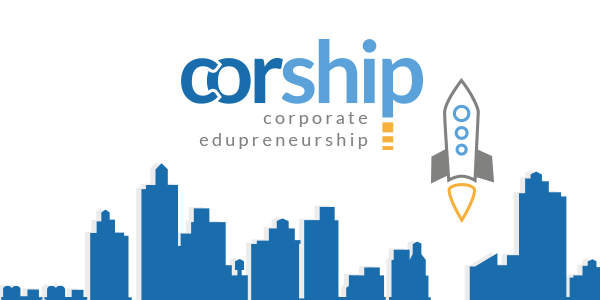 The European Commission support for the production of this publication does not constitute an endorsement of the contents which reflects the views only of the authors, and the Commission cannot be held responsi¬ble for any use which may be made of the information contained therein.