Project
Education and teaching concepts for healthy nutrition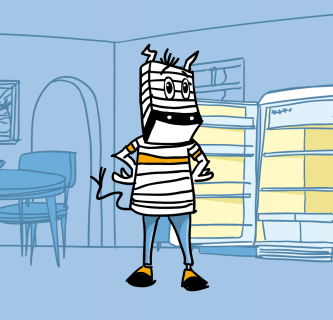 The "Education and Teaching Concepts" project carried out by the Health Perception Lab (HPL) aims to prevent obesity using a dual strategy: the computer game "Zebra goes shopping" aims to teach children about healthy eating. Teaching materials are also being developed for pre-school teachers to enable them to carry out a range of exciting experiments with food.
Smelling, tasting, touching, seeing and hearing – the project focuses on a sensory, hands-on approach to food. What does a fresh, crisp bread roll sound like compared with an old bread roll? How does the taste change while chewing? What does a grain of corn even feel like? The lovingly designed HPL experiment cards show pre-school teachers how one can encourage children, in a playful way, to learn about health and nutrition. It also forms part of the continuing education curriculum for pre-school teachers in Styria.
Since healthy nutrition starts with shopping for food, children playing the interactive computer game are escorted by a zebra, which shows them how to shop responsibly. Questions focus on topics such as milk production, the structure of a grain of corn or the cultivation of bananas. The topics also include health aspects, organic farming, Fair Trade or regional and seasonal eating. Both methods aim to heighten children's awareness, awaken their curiosity about healthy food and help prevent and reduce any aversion to nutritionally valuable food.