Projekt
PRINTeL
Promoting Innovative Teaching & Learning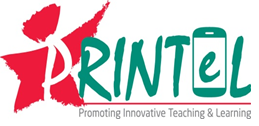 PRINTeL Logo
University Partners from Eastern Europa (Armenia, Belarus, Georgia) and the European Union (Austria, Belgium, Spain, Portugal, Sweden) cooperate to enhance student learning experience in partner countries by promoting development and innovation in teaching & learning (T&L), supporting integration of technology and research, and dissemination of good practice.
Modernizing Higher Education in line with the Bologna agenda and establish cooperation in education & training between EU and partner countries by promoting virtual mobility of teachers / students along with enhancing lifelong learning resources & means is of upmost importance in Armenia, Belarus and Georgia.
PRINTeL aims at strengthening Teaching Staff Development Centres (TSDC) in PC HEIs by enhancing capacities of staff and trainers; establish a Virtual Academy of Teaching & Learning (VATL) as an international community of teachers, staff and students as well as promoting greater awareness on types and methods of innovative and technology-enhanced T&L and disseminate best practices within and between HEIs in PCs.
10 Partners from Eastern Europe and 5 EU countries cooperate in PRINTeL to build up capacities of partner HEIs' teaching staff by developing their innovative and technology-enhanced T&L skills and abilities of competency- and research-based teaching.
Project Partners
P1 Yerevan State University (YSU), Coordinator of thr Project, Armenia
P2 National Polytechnic University of Armenia (NPUA), Armenia
P3 Vanadzor State University after H. Tumanyan (VSU), Armenia
P4 Ilia State University (ISU), Georgia
P5 Georgian Technical University (GTU), Georgia
P6 Iakob Gogebashvili Telavi State University (TeSaU), Georgia
P7 Belarusian State University (BSU), Belarus
P8 Brest State Technical University (BrSTU), Belarus
P9 Yanka Kupala State University of Grodno (YKSUG), Belarus
P10 National Center for Strategic Research in HE (NCSRHE)
P11 Katholieke Universiteit Leuven (KU Leuven), Belgium
P12 Universitat de Barcelona (UB), Spain
P13 Universidade do Porto (U.PORTO), Portugal
P14 Linkopings Universitet (LiU), Sweden
P15 FH Joanneum Gesellschaft mbH (FHJ), Austria

Erasmus+ Logo, European Union