Projekt
PRINTeL
Promoting Innovative Teaching & Learning
University Partners from Eastern Europa (Armenia, Belarus, Georgia) and the European Union (Austria, Belgium, Spain, Portugal, Sweden) cooperate to enhance student learning experience in partner countries by promoting development and innovation in teaching & learning (T&L), supporting integration of technology and research, and dissemination of good practice.
WHY PRINTeL
The project addresses a major issue of quality education, which is a common concern for the project partner countries. The ERASMUS+ PRINTeL is a three-year duration EU funded "Capacity Building in the Field of Higher Education" project aimed at enhancing quality of teaching and learning at partner country (PC) universities in Armenia, Georgia and Belarus.
The main long-term goals of the project are:
Enhancing student learning experience in Armenia, Georgia and Belarus by promoting development and innovation in teaching and learning (T&L), supporting integration of technology and research, as well as disseminating good practice.
Modernising higher education in Armenia, Georgia and Belarus in line with the Bologna agenda and establishing cooperation in education and training between partner and EU countries by promoting virtual mobility of teachers and students, and enhancing lifelong learning capabilities.
PROJECT OBJECTIVES
The abovementioned goals will be achieved through fulfilment of the following specific objectives:
To strengthen Teaching Staff Development Centres (TSDC) in the PC universities by enhancing capacities of staff and trainers, modernizing infrastructure and introducing innovative teacher training and academic leadership programmes.
To build up capacities of the partner universities' teaching staff by developing their innovative and technology-enhanced teaching and learning (T&L) skills and abilities of competency- and research-based teaching.
To establish a Virtual Academy of Teaching and Learning (VATL) as an international community of teachers, staff and students interested in using and sharing Open Educational Resources (OER) for the improvement of technology-enhanced T&L.
To promote greater awareness on the types and methods of innovative and technology-enhanced T&L and to disseminate best practices within and between universities in the partner and EU countries.
EXPECTED RESULTS
The following outcomes and outputs are expected by the end of the project:
30 staff and 100 trainers trained on innovative T&L methods and technology-enhanced instruction.
28 technology-enhanced teacher training classrooms, 9 multimedia OER content building studios and 5 new teacher training courses.
Over 500 trained university teachers who are no more just "lecturers" but "designers of the learning methods and environments".
Virtual Academy of Teaching & Learning (VATL) - an interactive professional development, mutual learning and virtual mobility platform of teachers to promote innovative T&L practices.
6 virtual communities of teaching practice, an annual Virtual Forum and institutional award programmes promoting awareness on innovative pedagogy and excellence in T&L.
Disseminated electronic newsletters, booklets, VATL Manual, Good Practice Teacher Handbook and training kits on innovative T&L.
PROJECT PARTICIPANTS
The following institutions from PC and EU countries are involved in the project consortium:
Partner Country institutions:
• Yerevan State University (YSU), Armenia - Coordinator of the project
• National Polytechnic University of Armenia (NPUA), Armenia
• Vanadzor State University after H. Tumanyan (VSU), Armenia
• Ilia State University (ISU), Georgia
• Georgian Technical University (GTU), Georgia
• Iakob Gogebashvili Telavi State University (TeSaU), Georgia
• Belarusian State University (BSU), Belarus
• Brest State Technical University (BrSTU), Belarus
• Yanka Kupala State University of Grodno (YKSUG), Belarus
Social partner:
• National Center for Strategic Research in Higher Education (NCSRHE), Armenia
EU partner institutions:
• Katholieke Universiteit Leuven (KU Leuven), Belgium
• Universitat de Barcelona (UB), Spain
• Universidade do Porto (U.PORTO), Portugal
• Linkopings Universitet (LiU), Sweden
• FH Joanneum Gesellschaft mbH (FHJ), Austria
LEARN MORE
For more information on the PRINTeL project please refer to:
Tender Announcement
The PRINTeL project No585760 **funded by the ERASMUS+ Programme of the European Union** kindly invites all suppliers to participate in the tenders for the supply of equipment for creating Technology-enhanced Active Learning Classrooms and Multimedia Lecture Capture Studios in several universities of Armenia, Georgia and Belarus. Within the frame of the tenders the following equipment amounting to 200,000 EUR is planned to be procured:
Interactive flat panels/displays
PTZ and Auto-tracking PTZ video cameras
Document cameras/visualizers
Presentation HD recorders & streamers
Interactive classroom response systems
Audio systems and studio kits, headphones
Acoustic soundproof studio panels
Lighting kits for video studios
Desktop and laptop computers
USB Web cameras
Network servers and equipment, UPSs for servers
For the details of the tendering processes please visit the following websites and download the complete official tender announcements:
http://printel.am/tender/am.pdf and http://printel.am/tender/ge-by.pdf, or http://ysu.am/tender/am.pdf and http://ysu.am/tender/ge-by.pdf, or call +(37410)570677 or +(37491)720178. The deadline for submission of tenders is 26 July 2019.
"INNOVATIVE TEACHING AND LEARNING IN HIGHER EDUCATION INSTITUTIONS": INTERNATIONAL CONFERENCE-WORKSHOP DEDICATED TO YSU 1OOTH ANNIVERSARY
The international conference-workshop "Innovative Teaching and Learning in Higher Education Institutions" implemented within the frames of "PRINTeL" project was held in Armenia, at the Yerevan State University (YSU) and was dedicated to the 100th anniversary of YSU foundation.
FH JOANNEUM was represented by Doris KIENDL, Head of Department of international Management & Ingrid KIENBERGER, Researcher & Projectmanager.
About 100 representatives of from 15 European and Eastern Partnership higher educational institutions-partners of the project took part in the conference-workshop.
Rector Aram Simonyan presented the history of foundation of YSU. During the first academic year the university had only one department- Faculty of History and Linguistics with 262 students and 32 teachers. 100 years later, the university has 19 faculties, 2 institutes, 3 scientific-educational centres and more than 100 chairs. The university provides three educational degrees to about 17000 students. There are more than 1500 teachers. It is also the largest university of Armenia.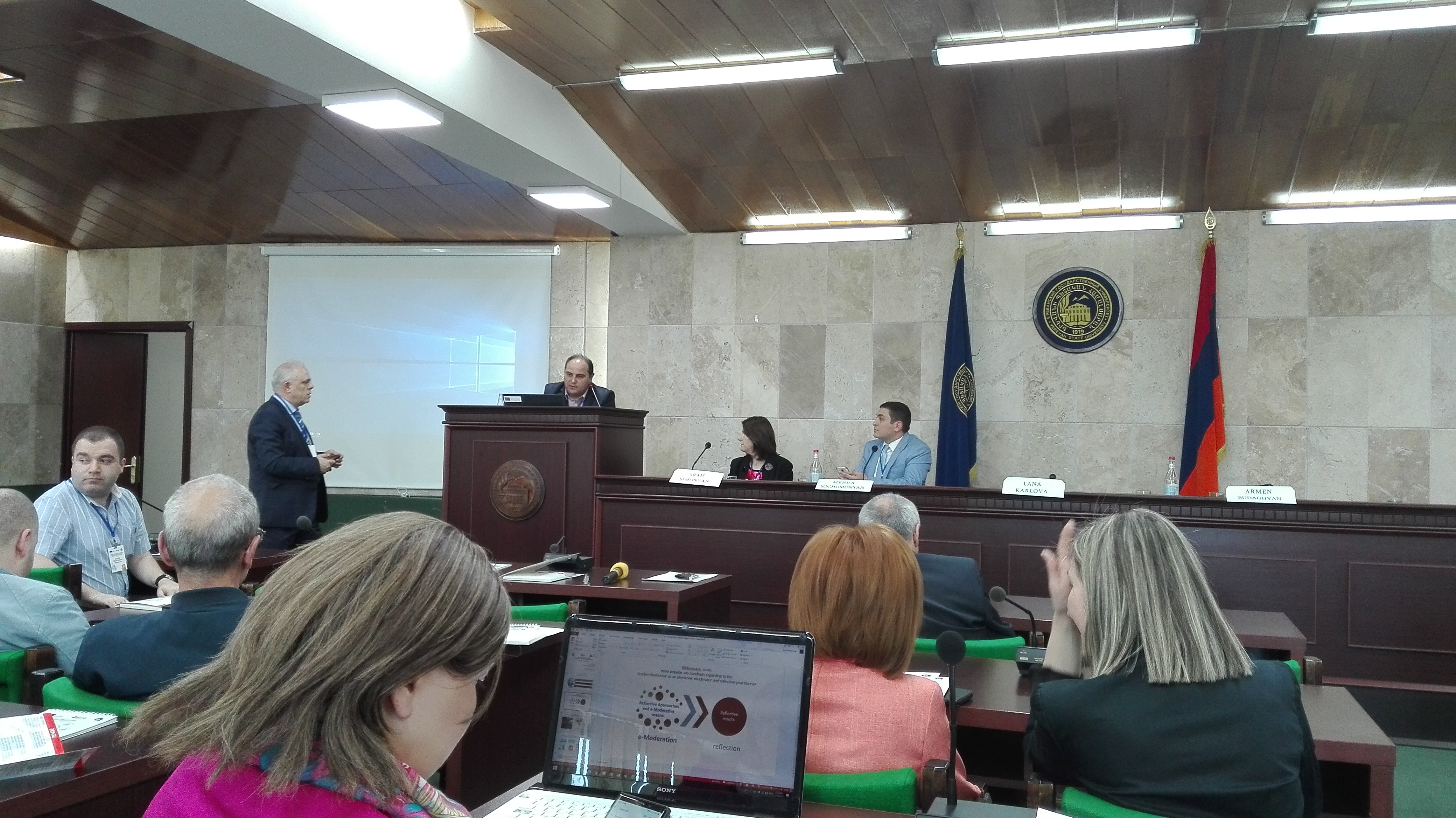 PRINTeL International Conference-Workshop
Due to the cooperation with the project the university is going to establish cooperation with the HEIs of other EU and PC partners to enhance teachers' trainings, to expand the development of online training resources and methods of innovative teaching skills and to create a virtual platform for teaching and learning and the promotion of innovative T&L.
The "PRINTeL" project coordinator, director of YSU Quality Assurance Centre, Armen Budaghyan noted that the representatives of the HEI involved in the project gathered to work out new actions aimed at installation of innovative methods of teaching.
During the Plenary Session on the first day, all 5 European partners provided experiences & findings from the Training of Trainers Workshops implemented in the respective universities.
On behalf of the FH JOANNEUM, Doris Kiendl, presented the results of the weeklong Training about Hybrid/ blended teaching & learning in Graz, implemented in November 2018 at the FH JOANNEUM for 20 participants (lecturers from different universities in Armenia, Georgia & Belarus. The most important benefits from the workshop for the teachers involved were summarized by Mrs. Kiendl as follows: the teachers are trained in the meaning and significance of "blended learning"; they are familiar with the different roles of teachers in blended learning scenarios; able to reflect the potential of blended learning in higher education & applying innovative tools of project management in their own teaching.
Dr. Kiendl rounded off her lecture with the following statement: Innovative Teaching Methods enable us to collaborate intensively in the future to add value to our teaching, learning and research.
In 5 parallel sessions on the second day of the conference each EU partner university briefly informed the audience about the main concept/methodology behind the TOT provided at our university. The workshop was led by Doris Kiendl & Ingrid Kienberger.
The second coordination meeting of PRINTEL started after the final session of the international conference-workshop.
Newsletter
Below you can find the link of the PRINTeL's 1st e-Newsletter kindly produced by our BrSTU partners. This Newsletter covers all the project activities and results till the TOT courses.
ERASMUS+ PRINTEL FINAL DISSEMINATION ONLINE CONFERENCE
"CHANGE IN THE CLASSROOM"
29 September, 2021
at 09:00 Central European Summer (CEST/Brussels) time
Links:

Erasmus+ Logo, European Union