Bachelor's Thesis | Information Design
Sustainable Productivity
And how to Achieve It with an Artificial Intelligence App.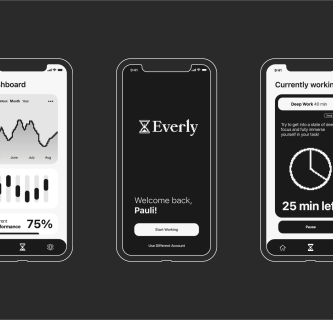 While working in a linear motion without thinking too much about breaks and concentration is easy, it is counterproductive when it comes to improving the workflow. When applied correctly, time-management methods and focused sessions can result in getting more done than usual, leaving more time to spend outside the office. The aim of this Bachelor's Thesis is to summarize the most important ways to boost performance and increase productivity, while reducing stress and burnout risk. Moreover, based on literature research, the concept of an app which helps users work more efficiently is created and described.
The result of the Bachelor's Thesis is the concept for a mobile application that takes over time-management with the help of artificial intelligence. A key finding of the research shows that a user, especially when they are self-employed, needs a way to structure a workday without having to do more work. The application solves this problem by allocating timeframes that fit perfectly to the required tasks, while making sure the user is allowed to refuel their body in between work sessions.