Project
The Re-use of Existing Structures in Austria and Albania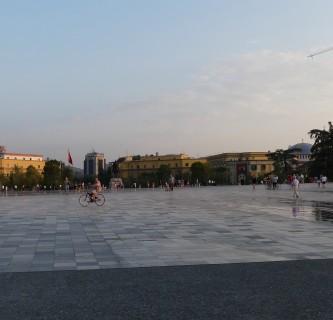 In cooperation with the Faculty of Architecture at POLIS University in Tirana, Albania, the Master degree programme in Architecture has investigated the problem of converting existing buildings in the Albanian capital using selected examples.
Despite its rapid growth, Tirana's architectural landscape is still strongly influenced by its Soviet heritage. The preservation and treatment of the existing buildings from the communist period therefore represent an essential component of contemporary architecture.
The project "The Re-use of Existing Structures in Austria and Albania" has set itself the task of developing adaptive re-use proposals which are based on three characteristic examples in the centre and on the periphery of Tirana. The starting point for the joint project was an on-site survey to get to know Tirana's local cultural characteristics. In a further step, a catalogue of criteria was compiled based on the expertise of the Austrian partners and on reference examples. In regular exchanges - partly digital due to the pandemic - the analysis and the recommendations for conversion were worked on jointly. The objects cover a broad spectrum: a former radio station, an abandoned industrial building and a Soviet-style residential block that served as a prototype for numerous residential buildings in Albania.
History
Although none of the three properties are listed, they are nevertheless of historical value and characteristic examples of the political restrictions on architecture in the period from 1945 to 1990.
New uses
Ish Uzina Mekanike Enver, the former industrial building in the centre of Tirana with its striking sawtooth roof, is located in a densely populated residential area and offers numerous conversion potentials also due to its proximity to the university campus. The situation is similar with the former Kashar radio station, which is directly adjacent to the grounds of the POLIS private university and a shopping centre.