Project
The world's lightest folding wheelchair
Innovation at the Institute of Automotive Engineering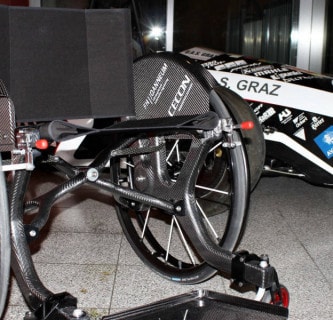 Facilitating movement: if you're reliant on a piece of equipment in everyday life, then there's a huge difference between 5 and 20 kilogrammes. The world's lightest folding wheelchair has been designed and produced at the Institute of Automotive Engineering.
Weighing only 4.96 kg, the world's lightest folding wheelchair is made from a combination of carbon, aramid, aluminium and steel. By comparison, patients in hospital are typically having to push around 20 kg in addition to their own bodyweight. This weight difference is achieved through ultra-lightweight construction in which materials are used extremely efficiently and the properties of each material are used to optimum effect.
The idea behind this project, which is the work of four students on the Master's degree programme in Automotive Engineering, is to improve mobility for people with physical impairments. The students have already applied their knowledge of ultra-lightweight design and construction in a very different field, namely in developing a racing car for the Formula Student competition.
By consistently improving construction and the choice of materials, it was possible to reduce the weight of a second wheelchair even further. The students also organised sponsoring for their project. However, it is not intended that the project ends after construction of the second wheelchair: there are many options for taking the project forward, whether for use in aircraft or installation in a car, where the wheelchair is effectively integrated as a form of docking station.
Tip:
If you have any questions about the wheelchair or other student projects, please feel free to contact us.