Research
Research design
Early childhood obesity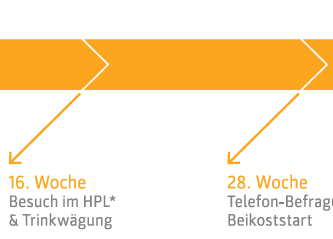 The prospective, longitudinal study will run for a period of five years, and will be undertaken at the Health Perception Lab (HPL) at FH JOANNEUM, as well as in the subjects' own homes. 90 women and their children will take part in the study.
Research phases. Methods.
The subjects will be involved in the study for two years, with the first phase including a set of frequent scheduled visits. During the second phase—the infant period and follow-up research—two visits are planned around the time of the child's first and second birthdays.
Timeline
In the first phase the subjects come to the Health Perception Lab (HPL), a specially equipped laboratory designed for research at FH JOANNEUM, at regular intervals over a period of four months. This phase involves:
recruiting the subjects,
surveying the mothers' nutritional habits,
measuring the anthropometrical parameters,
weighing the drinking volumes,
measuring the macronutrients in the breastmilk,
determining the body fat mass of both mothers and infants, and
measuring satiety signals using biophysical methods.
The second phase of the longitudinal study involves follow-up examinations of the mothers and the children on their first and second birthdays. The anthropometrical data of the mother and child, the mother's feeding style and the eating behaviour of the child are recorded and the body fat mass identified.
Furthermore, the medical history of the child's milk diet and the start of supplementary feeding is recorded. Micronutrients, biomarkers and the microbiome are all examined in detail and the audio-visual satiety signals evaluated.
During the volume studies, the subjects will independently undertake four so-called 24-hour drink weighings at home, and fill out online questionnaires on the nutritional status of mother and child. In doing so, the subjects enjoy the advantages of free professional advice from midwives and nutritionists.
Information for anyone interested in taking part (in German)