Research Area
Financial Literacy Competence Center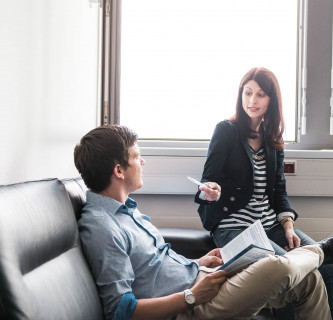 Financial literacy is a combination of financial awareness, knowledge, skills, attitudes and behaviours, which are required in order to make sensible financial decisions, leading to personal financial health.
Mission of the Financial Literacy Competence Center
The Financial Literacy Competence Center pools the expertise of our specialists from the financial services sector, banks and the insurance industry with the aim of promoting financial knowledge and skills as a relevant subject, which in turn has a direct impact on human life and wellbeing.
"The Financial Literacy Competence Center participates in national and international projects which allow us to make a significant contribution to improving the financial literacy of all population groups."
Projects
The Center has carried out a range of projects aimed at designing publications, books, seminar plans and teaching curricula for schools, hosting training courses, seminars and conferences, and developing customised software applications (apps). In addition to training and seminars on the subject of financial education, project outcomes are regularly presented at the Austrian National Bank's **Round Table on Financial Education **.
Experience the world of finance interactively at the Institute of Banking and Insurance Industry
Our annual Finance Days can be registered as school events, and offer interactive workshops for students aged 16 and over. The Finance Days are intended to raise awareness of the finance industry, to spark students' interest and show them how creative abilities and innovative skills can be incorporated and applied in the financial sector.
Workshops are held on the following subjects:
Introduction to the world of finance, its key institutions and career opportunities
Money and banks: Where does our money actually come from? Why do we need banks?
How does insurance work and what products does it offer? And what does it have to do with throwing dice?
The capital market, stock market and cryptocurrencies: Investing in the stock market ... why it has bulls and bears, but no bitcoins.
During the workshop we present students with practical games and examples which give them the opportunity to find out more about the financial industry and the current hot topics in order to stimulate greater interest in this sector and break down barriers to entry.