Fields of Expertise
International Business Strategies and Processes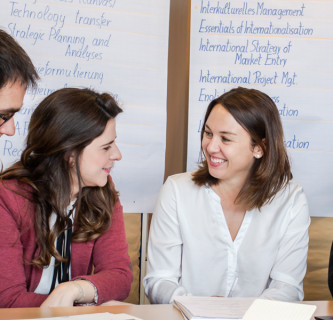 Experts at the Institute of International Management and Entrepreneurship develop scientific market entry strategies for international companies, and compile potential analyses for public and private bodies. They help enterprises in knowledge management for international business operations, and research into new business models and entrepreneurship.
Austria's economy is export-focused and needs all its stakeholders to have the relevant expertise. As a result of technological, social, political and economic changes, enterprises need to dynamically adapt their business models by investigating, analysing and systematically evaluating the potential offered by new markets. The Institute runs projects together with global corporations as well as start-ups and regional authorities. They compile data for their clients on the attractiveness of the target regions and future markets, using this information to draw up recommended courses of action.
In the field of entrepreneurship the Institute is a partner in the Global Entrepreneurship Monitor study, which provides meaningful information about entrepreneurial activity and critically examines the relevant framework conditions.
As well as standard analyses of market potential and entrepreneurship studies, the research focus includes developing innovative models of corporate communication and knowledge management such as BizMOOCs. Other topics include intercultural management and marketing concepts which leverage on social media and digitisation.